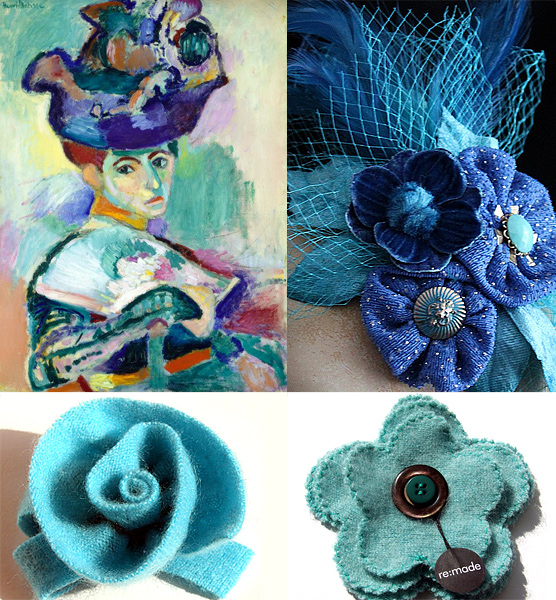 • Henri Matisse, Woman with a Hat (La Femme au chapeau), 1905
• Floral Headpiece by Carla
• Rose Brooch by Vicky
• Cashmere Flower Brooch by Vicky
Amelie's nose shines with a dot of yellow, reflecting off her cheek and above her right eye. The burnt orange of her upper lip pales only slightly on her neck and warms into a sunset yellow, contained by violet blue on either side. Bold maroon eyebrows dominate her face, awash with pale hues of light green, blue and yellow. A residue of red falls down to the cheek and prevents the right side of the face from blending into the green background. Tucked behind a peach ear lies a section of dark red hair, highlighted by the pale yellow that reflects off the nose.
The hat curves across and beyond the head, leaving a green shadow on her forehead. Lighter variations of the deep blue zigzag upwards and introduce the sea green, yellow, and red that form in the face. The orange of her neck ripens within the hat, absorbing the purples, while the blues and greens turn into a muddled turquoise. The strong blue outline that contains the hat opens up at the top to allow wisps of color to dissolve up and into the yellow-green background. The prow of this ship points backwards, with its colorful cargo resting heavily yet weightlessly on Amelie's head.
Her glove grasps the fan firmly with a dark green outline, which peaks into bright white and rushes away with long strokes of light blue and sea green. Touches of hyacinth and egg-yolk yellow cascade into splashes of purple and red, gaining momentum from the intense line of dark red that frames the right side of the fan. Over the pale pink of the glove, forest green lines form her arm and flow into the outline of her shoulder and fan.
Matisse was a sensual strategist. The woman, the gesture, the explosion of colors suggest sensuality, but Matisse paints it with deliberate calculation. Every color repeats evenly throughout the painting. He removes the colors and movement of brushstrokes from the natural world, and yet the painting still depicts a woman with a hat. Not just any woman and not just any hat. His wife Amelie made this hat. Her work as a hat maker allowed him to continue painting.
Brilliant analysis of this painting by T.J. Clark