Icarus, they say, almost became a god. The same can be said, can it not, of the windowside wanderer, whose gaze aspires to flight, but falls, into a sea of streetlamps and shadows. He revels in randomness, seeking out busy intersections during rush hour, the salty air of seaports over perfumed avenues uptown. Daydreamers get all the credit, but their ambitions remain suspended in the clouds, elevated above the asphalt as they bend time to their own liking. Innovation, we claim, requires a leap into the unknown, a touch of madness. Yet what could be more daring than spending an afternoon exploiting the inconsistencies of the street from above?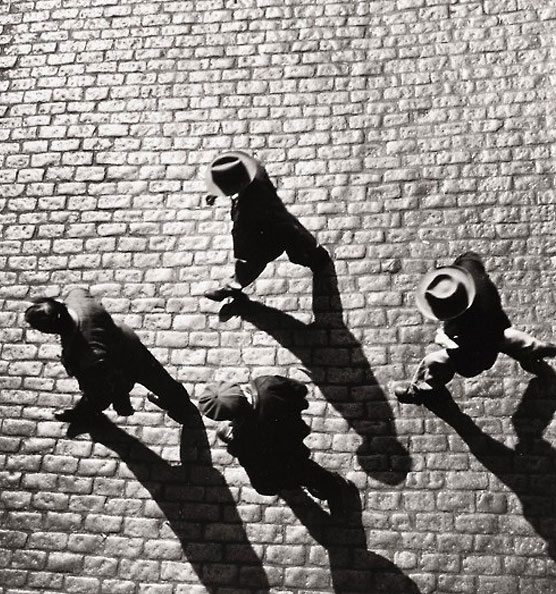 photo: Bedrich Grunzweig, 1950
The windowside wanderer, with a camera, arms himself against the leisurely gaze of the flaneur, intoxicated by messy brushstrokes trying to define the rainy boulevards of Paris. No, he belongs to New York, its sidewalks swept clean of aimless figures better suited to conventional compositions. Tilted perspective, almost aerial, asks not for the irregular outlines of the dandy or dilletante, but rather the streamlined silhouettes of trenchcoats and fedoras, elongated, spilling over crisp edges cut with the ruthless severity of tight, dry lips and ironed collars of Wall Street bigshots.
The windowside wanderer, over time, trains his reflexes for the right moment to jump. He does not stroll; he stalks his prey and pounces with the soft certainty of the feline predator, feeding an appetite for converging paths he maps in monochrome. By cropping this man's hat and that woman's shadow, he snatches away destinations, the one-note melody of the commuter, and transforms the street into a circus act unaware of its own synchronicity.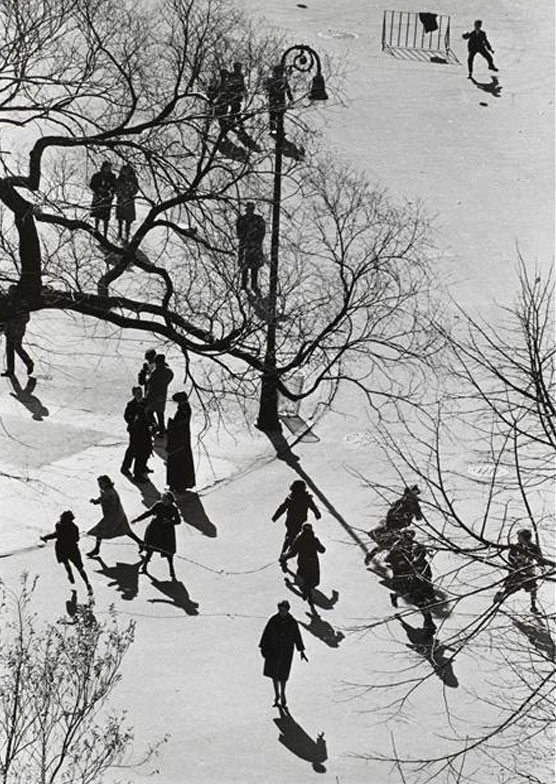 photo: Andre Kertesz, 1960
The windowside wanderer, then, invokes the Greek akrobateō, climbing upward while walking on tiptoe. Letting go of the window's edge, he balances above the flux of chance encounters mediated by the sun's unwavering trajectory. He falls and fails, missing his chance as shadows lose their intensity. But his devotion to spontaneous combustion gives him another chance, and another. In his art, he is immortal, which brings us back, in a way, to the gods.