Believe me, my young friend, there is nothing – absolutely nothing – half so much worth doing as simply messing about in boats.
– Kenneth Grahame, Wind in the Willows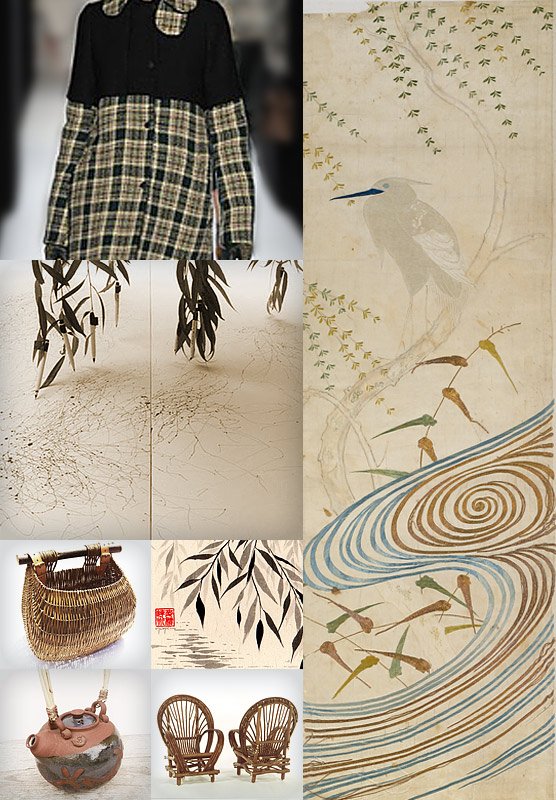 • This Noh Costume Detail is silk satin embroidered with a sagi, a white egret that features in a noh play of the same name and an episode in the Tale of the Heike. The gold and blue swirls are a more stylized extension of the willow tree, but they could also depict the sagi's celebratory dance when the emperor gives it the rank of minister.
• For one of his Tree Drawings, Tim Knowles attached pens to the branches of a weeping willow in Victoria Park and allowed the wind to create the tree's own signature.
• The Mulberry Fall 2013 Collection was inspired by the Old English style of Wind in the Willows. With luxury and ease that would have pleased Mr. Toad, the collection combined tweeds and leather with floral prints reminiscent of his country castle.
• Claire Gaudion's Willow Bicycle Pannier is a traditional fisherman's basket from the island of Guernsey.
• Mark McGinnis' Willows & Boise River depicts leaves dipping into water in black ink on mulberry paper.
• Sonia Girotto's Teapot suspends a red stoneware clay pot from handles made of willow branches from her garden.
• Marcia's Fan Chair is made entirely from bent willow branches.