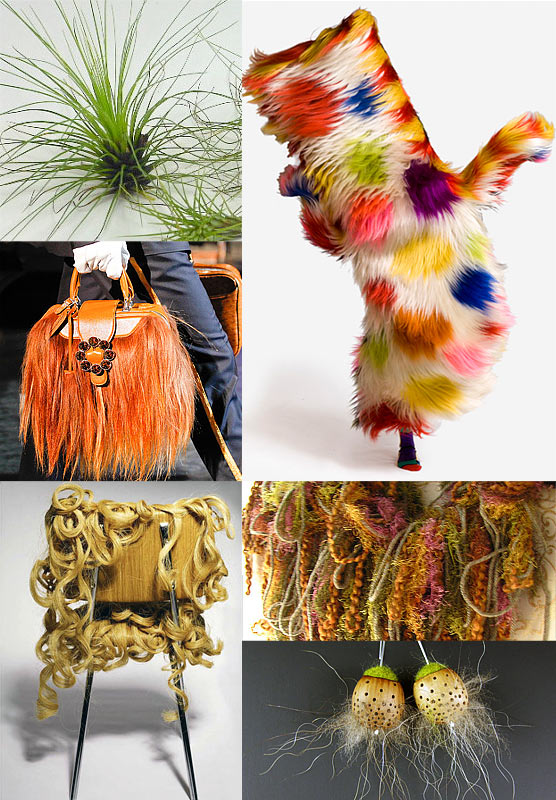 • Nick Cave's Soundsuits come alive in motion. Made from an odd assortment of materials (dyed human hair, toys, sequins, and yarn to name a few), these suits transform the wearer into a modern-day shaman. They draw on the idea of tribal dance and masquerade as ways to express uninhibited imagination and dreams in disguise. Cave uses traditional craft techniques such as crocheting and macramé to construct the suits. Watch an interview with him here. You can buy scarves, leggings, and other goodies from his Sound Suit Shop.
• Tim & Anita's Air Plants are bits of greenery perfect for small spaces or large installations. Or, perhaps one of Nick Cave's Soundsuits. This pack of three includes filifolia, argentea, and funkiana.
• Have you ever seen a fluffy dog peeking out of an expensive dog? In Louis Vuitton's Fall 2012 Collection, some of the handbags were made from long manes of hair.
• Dejana Kabiljo's Hair Chairs are a Surrealist dream of Goldilocks and the Three Bears.
• This Shaggy Shawl by Neckglitz is an organized mess of yarn in rich earthy tones.
• Winona's Fuzzy Nuts are earrings made of hazelnut shells stuffed with felt and raccoon fur.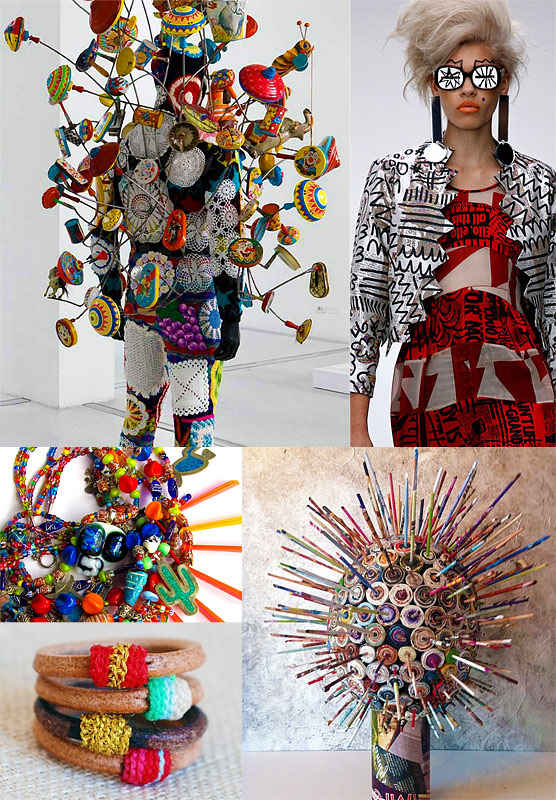 • Louise Gray's Spring 2013 Collection brings together metallics, doodles, typography, geometric prints, and crazy sunglasses all in one outfit.
• Hallie's El Gringo En Mexico Necklace is a colorful cocktail of skulls, crosses, sombreros, cacti, and beads.
• Maria's Leather Rings add touches of color to leather bands.
• Flavia dreamed of this Prickly Pear and made it real by coiling and rolling old magazines.