It's strawberry season! Once you're done devouring boxes of fresh berries, consider prolonging the pleasure with these fine goodies.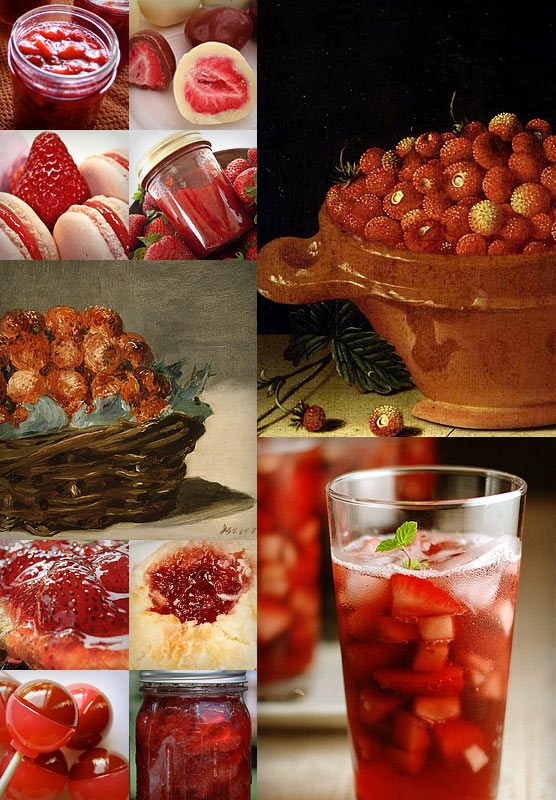 • Adriaen Coorte's Strawberries on a Stone Plinth and Édouard Manet's Basket of Strawberries depict the bounty any one of us might bring home from the farmer's market in June. And yet each berry is singular, its markings dependent on a unique relationship between light and seed. Coorte's berries are perfectly situated, while Manet's are fleshy, even grotesque the more you look at them.
• Arian Spellman's Strawberry Jam is made with low sugar and organic strawberries grown in Santa Barbara.
• Lushley's Strawberries are covered with a thick layer of milk and white chocolate.
• Indiyani's Macarons have a strawberry flavored shell and are filled with strawberry ganache.
• Kim Cortez' Jam is made with strawberries and a little champagne for a little extra kick.
• Andrea Galvez' Jam mixes strawberries with the dark, rich taste of balsamic.
• Jamie Styger's Thumbprint Cookies are made of shortbread filled with jam and rolled in coconut.
• Gary's Duo Suckers are split between chocolate and strawberry for those who want a little of both.
• Elizabeth Kelley's Preserves are made with freshly picked organic strawberries, sugar, and lemon juice for a wide range of dessert recipes.