Henri Rousseau traveled to exotic locations by visiting botanical gardens in Paris and reading colonialist accounts of their adventures. Here are some lusciously green items to transport you into a tropical daydream.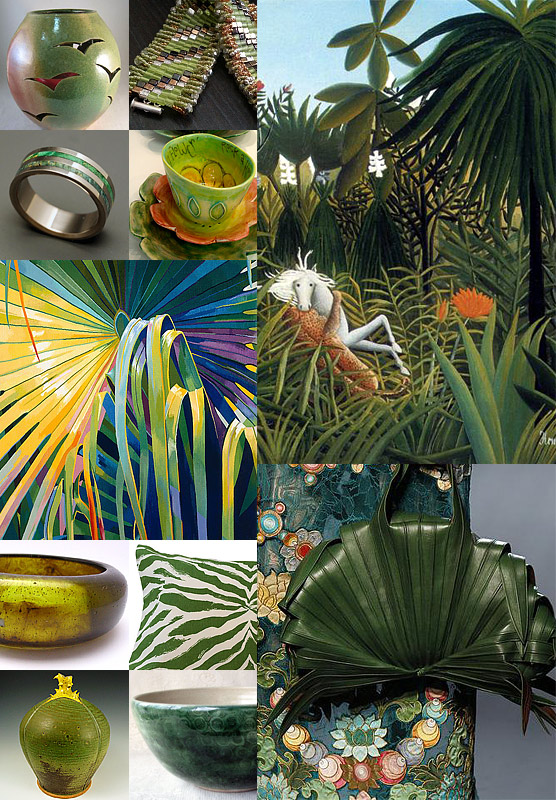 • Henri Rousseau's Horse Attacked by a Jaguar depicts a scene that corresponds exactly to an account given in Beeton's Dictionary of Natural History, published in 1871. The rather violent and melodramatic language portrays the jaguar as a savage beast, but Rousseau transforms the scene into a dream-like composition, full of foliage borrowed from the Jardin des Plantes in Paris.
• Sheila Hicks' Palm Tree is a fiber tapestry that reflects her ability to bridge the gap between craft design and installation art. Take a look at more of her innovative work from a recent retrospective.
• The Jean Paul Gaultier Spring 2010 Couture Collection included a bag made of strips of green leather that resembled a casually folded palm leaf.
• This Candle Holder by DMW Pottery Studio has a green and rusty red surface, with stylized leaf cut-outs.
• Sarah Blessing's Cuff is hand-woven with shimmering gold, green, and bronze beads.
• This Jungle Vines Ring by Minter and Richter Designs frames two bands of green and blue wooden inlay in titanium.
• Nina's Tea Set has flower-shaped saucers and whimsical illustrations inside each cup.
• This Resin Bracelet by Topaz Turtle is luminescent green with swirling wisps of chocolate brown.
• Kimber McGallagher's Pillow Cover has a tribal pattern in jungle green and ivory.
• This Ceramic Bottle by L. G. Barnes III resembles a living plant, with leafy green sides and a yellow thorn top.
• Leslie Freeman's Bowl has a rich emerald surface with a subtle ring pattern.