Pine trees rise through cloud
soar into the blue skies
bush clover, spangled with dewdrops
sways in the autumn breeze;
As I dip cold pure water
at the edge of the stream,
a solitary white crane
comes lolloping my way.
– Baisao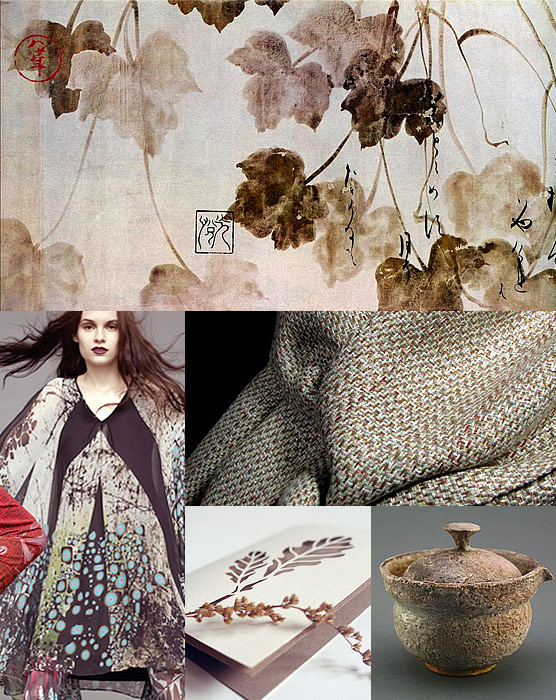 • Tawaraya Sōtatsu's autumn flowers were painted with washes of ink still wet. Sōtatsu used a technique called tarashikomi, or applying ink before the previous layer is dry to achieve a textured, rich surface. Note how the calligraphy weaves into the motion of the leaves falling.
• UK designer Sarah Arnett created these elaborate, floral patterns for the label Modern Love
• Lynn's Handwoven Scarf is a luxurious combination of bamboo fibers in shades of brown and beige, with light green and wine color accents.
• Anatoly Vorobyev's Hand Cut Greeting Card features the simple and elegant pattern of an oak tree leaf.
• Shawn McGuire's Shiboridashi Teapot has a rich, textured surface that's perfectly imperfect.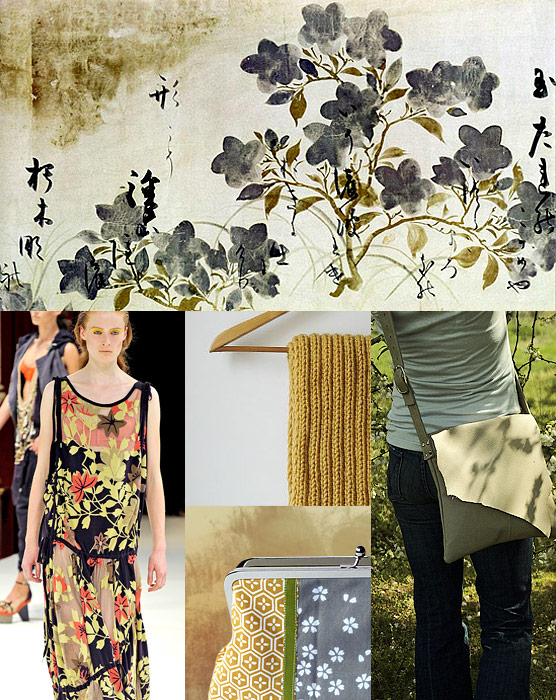 • Kenzo's Spring 2011 Collection deconstructs kimonos and Japanese prints into a modern, casual silhouette.
• Branda's Ochre Scarf is a thick, chunky knit ideal for fall.
• Katie Gordon's Clutch comes with a coin purse, and both printed with Japanese cotton fabrics that are pieced together with green ribbon.
• Rachel Dortch's Sybil Messenger Bag is hand-crafted in quality leather with a raw edged flap.