We take abstract geometry and free-floating graphic elements for granted, but their place in art and design only started with the Russian Constructivists in the 1910s and 20s. Artists like Lyubov Popova, Vladimir Tatlin, and Alexander Rodchenko rejected the idea of art for art's sake and turned to graphics and architecture for inspiration. Here is a selection of more commercial incarnations of their work.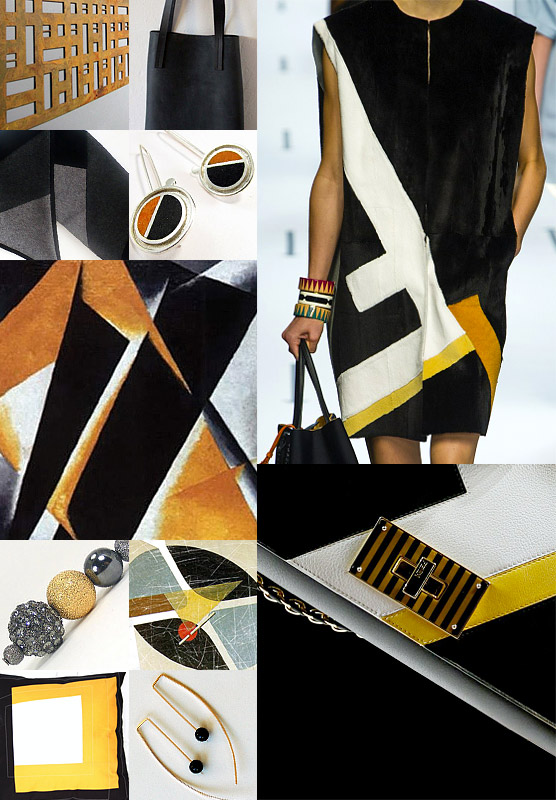 • Lyubov Popova's Painterly Architectonic of 1918 reflects how she absorbed the developments of Cubism, Futurism, and Russian Constructivism to take the leap into pure abstraction in painting. At the time, she was working in Vladimir Tatlin's studio and no doubt the Tower left its mark in her paintings. What separates Popova from the other Constructivists was the dynamic quality of her geometric planes. They appear in motion, almost like complex machinery, rather than floating in space.
• The Fendi Spring 2013 Collection has Popova's legacy in its designs, which is ironic considering how far from luxury fashion she placed her work.
• Moda Industria's Binary is a rusted steel sculpture with rectangular cut-outs.
• Chris' Bag is made of charcoal leather and has a long shape perfect for your notes, books, or iPad.
• Alessandra's Scarf is made of asymmetrical panels of wool in different shades of grey.
• Omar's Earrings frame a black and orange split circle in sterling silver.
• MKW Atelier's Glaze suspends a sparkly string of gold and silver beads.
• Diatonic's T-Shirt is printed with El Lissitzky's graphic and timeless Proun.
• Adrienne's Pillow Cover brings a pop of contrast and color to your room with off-center squares in black, white, and yellow.
• Cindy's Arc Earrings accent sleek gold arcs with black onyx beads.