Messing with the neat edges of the grid, in leather, light, steel, and silver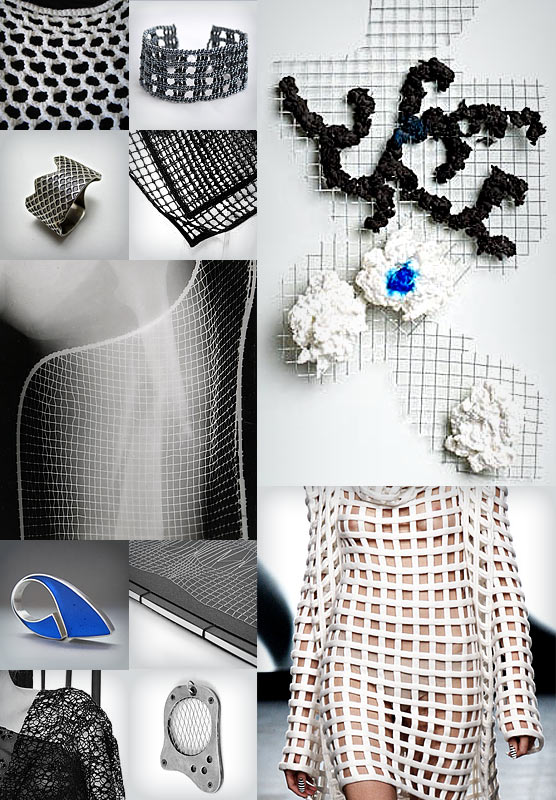 • This X Ray, probably of a soldier wounded in 1916, was not valued as an aesthetic object initially. But avant-garde artists like László Moholy-Nagy took camera-less photography into the realm of art. He believed that photograms and X rays could "produce pictorial space from the elemental material of optical creation, from direct light."
• Richard Tuttle's Place, four is part of his Place in the Window exhibition, consisting of wire mesh fragments stuffed with different configurations of cotton fiber.
• The Gareth Pugh Spring 2012 Collection included exoskeletons of thin leather that were strictly controlled and yet allowed freedom of the body.
• Linda's Vest is made of white acrylic crocheted in a wide mesh.
• Petals Design's Bracelet is hand-woven from black metallic and matte beads.
• Deborah Lee Taylor's Ring contrasts between a silver mesh layer and jagged edge.
• Sandra Hagen's Vest is made from black rubber mesh for a sexy yet controlled look.
• Su Trindle's Ring is a wave of blue resin framed in sterling silver.
• Fabulous Cat's Notebook has a Japanese style binding and olive green cover embroidered with a disturbed mesh pattern.
• Fractures Wear's Blouse drapes black mesh over tulle embossed with velvet blossoms.
• Jena Roytman's Pendant is an abstract silver window with steel mesh and bronze tube rivets.