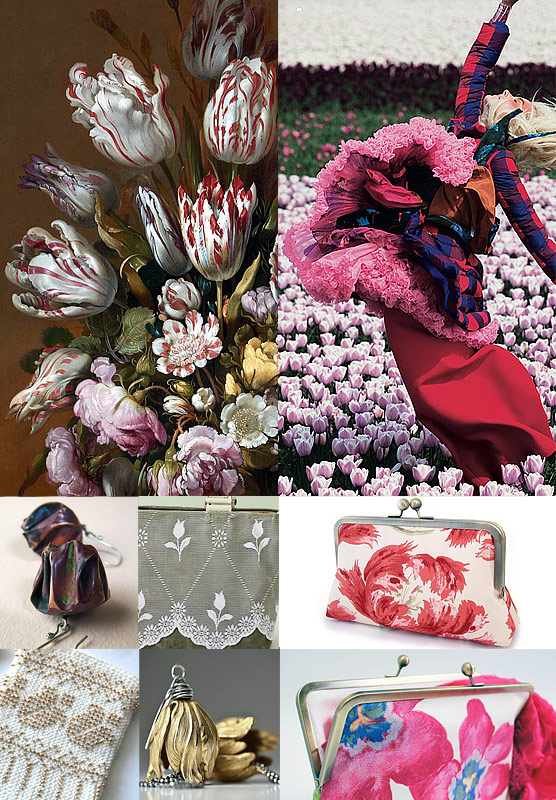 • Why tulips? Why were tulips the most sought-after luxury item in Dutch cities during the 1630s? Colorful tiger stripes did not drive astronomical prices and cause a major ripple in the financial market. Botanists and aristocratic humanists took an interest in tulips, but so did the new class of burghers and merchants eager to establish their own systems of value and status. This convergence of high fashion and money made tulips the "it" item, until it crashed the market in 1637. Take a look at Hans Bollongier's Still Life of tulips at the new Rijksmuseum online collection. Read about Dutch history, build your own online collection, and download the hi-res images to use in new ways.
• In this spread for Dazed & Confused Magazine, high fashion literally frolicks in fields of tulips.
• Cynthia's Tulip Earrings are made from thin sheets of copper delicately molded into petals.
• Virginija's Wrist Warmers have a pattern of tulips from golden glass beads.
• Nienke's Hand Bag overlays white netting with tulips over dark leather.
• Elzbieta's Earrings recreate the wave and texture of tulips in brass.
• Rowena's Clutch depicts a splash of red tulips on creme-colored cotton fabric.
• Alison's Clutch has a watercolor design of dark pink tulips.