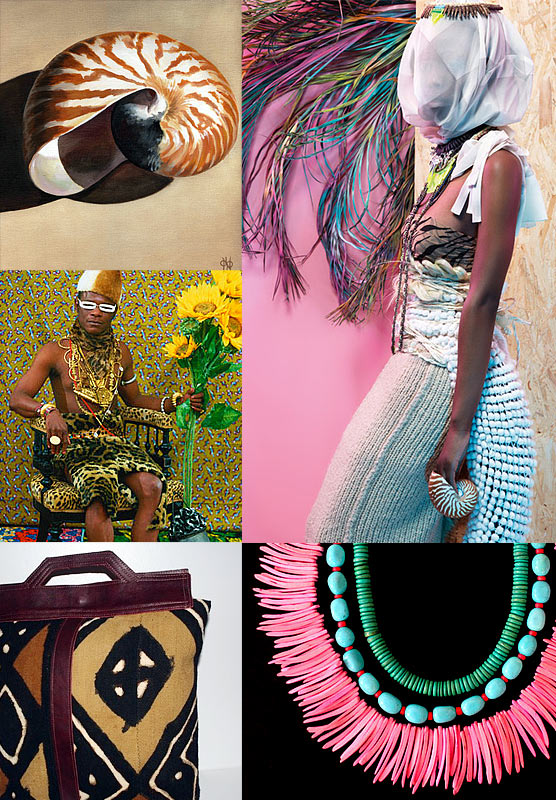 • Swiss photographer Namsa Leuba took the latest knitwear in high fashion to Conakry, Guinea, and directed local models to wear it as "statuettes." The result mixes traditional symbolism and ritualistic elements with Leuba's own inventive touch.
• Samuel Fosso takes self-portraits that combine traditional and modern iconography. He describes this photograph as "an African chief, in a western chair with a leopard-skin cover, and a bouquet of sunflowers. I am all the African chiefs who have sold their continent to the white men."
• Donna's Nautilus Shell Painting renders the spiraling stripes in acrylic.
• C. Hutson's Bogolanfini Bag is made from mud cloth, a Malian fabric dyed using fermented mud.
• Tricia's Tribal Necklace spices up tribal jewelry with a touch of neon. This multi-layered piece is made from turquoise stones, porcelain beads, coconut shell discs dyed coral and green, and coconut shards dyed pink.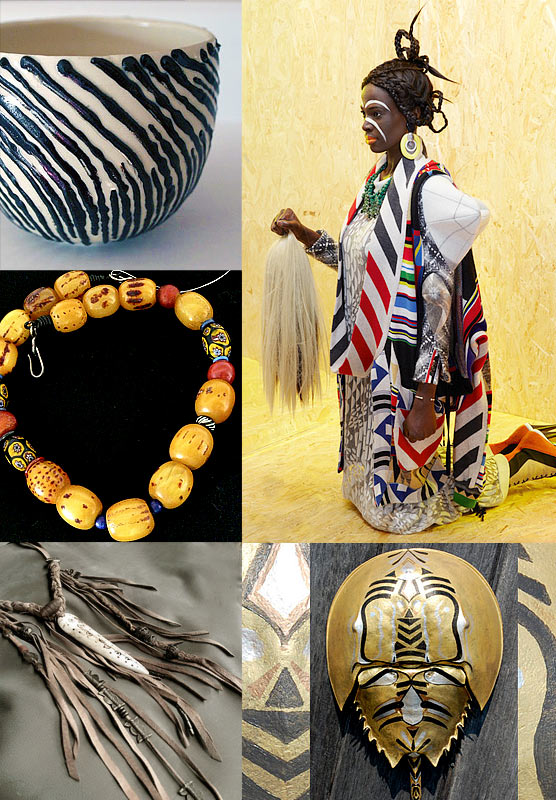 • Leili's Quagga Bowl has a textured surface of dense zebra stripes.
• Each component of Carol's Tribal Necklace has a rich history. She strings together African signed amber beads, Venetian red beads made in the late nineteenth century for trade with Africa, and Italian milifori beads.
• Lico's Braided Leather Necklace mixes antique stamped bone, beads from Ghana and Ethiopia, and strips of soft leather.
• Giselle gives new life to washed up horseshoe crab shells with her Tribal Mask series. She painted this Shell with a gold, black, and silver color palette.