Today we're looking at small objects that look like wild, turbulent landscapes.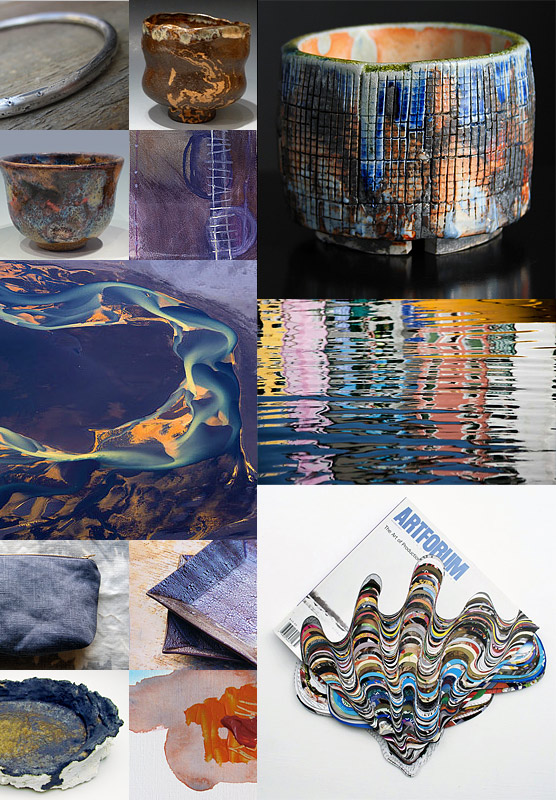 • Francesca Pastine's Unsolicited Collaboration with Frank Stella is part of her series of excavations of Artforum magazines. She cuts out individual pages so that the respected publication looks like it's dissolving into a rainbow river. As an excavation, her work questions whether Artforum is relevant anymore as a journal that relies on print, advertising, and the opinions of critics only speaking to other critics.
• Jessica Backhous' Venice in Reflections series captures the city in its canals. Like an Impressionist painter recording everyday life with loose brushstrokes, her focus on distortions mirrors our own fantasies about Venice.
• Andre Ermolaev's photographs of Iceland depict the surreal, painterly quality of rivers flowing through volcanic ash.
• Adam Whatley's Clay Cup creates a contrast between the imprinted grid lines and fire-and-rain watercolor background.
• Kendra Cecil's Bangle is sterling silver with a rich surface of tiny imperfections.
• George Watson makes clay look like it's in motion. His Chawan resembles liquid lava, with an uneven form and organic streaks of tan running through reddish brown. His Yunomi has swirling colors reminiscent of the interactions between water and ash in volcanic landscapes.
• Kumo's Indigo Ladder mingles metallic violets and blues, and part of the proceeds go toward a Kiva loan.
• Liane's Pouch is made from hand-dyed hemp canvas and lined with vintage Indian printed cotton.
• Rivka Vieder's Plates have a visibly cracked surface that looks like scorched earth.
• Erica Iman's Dish is an otherworldly landscape with its craggy edge and thick mixture of bronze and blue glazes.
• Lauren Adams' Painting 131 is an abstract interpretation of the West Virginia landscape, with brushwork that ranges from barely-there to sculpturally thick.