The sun rose. Bars of yellow and green fell on the shore, gilding the ribs of the eaten-out boat and making the sea-holly and its mailed leaves gleam blue as steel. Light almost pierced the thin swift waves as they raced fan-shaped over the beach. The girl who had shaken her head and made all the jewels, the topaz, the aquamarine, the water-coloured jewels with sparks of fire in them, dance, now bared her brows and with wide-opened eyes drove a straight pathway over the waves. Their quivering mackerel sparkling was darkened; they massed themselves; their green hollows deepened and darkened and might be traversed by shoals of wandering fish. As they splashed and drew back they left a black rim of twigs and cork on the shore and straws and sticks of wood, as if some light shallop had foundered and burst its sides and the sailor had swum to land and bounded up the cliff and left his frail cargo to be washed ashore.
– V.Woolf, The Waves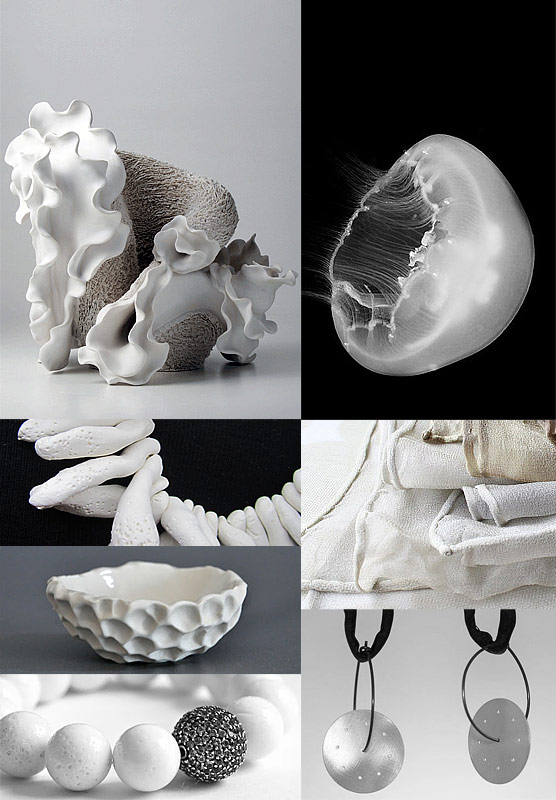 • Noriko Kuresumi's series Sea of Memory, creates ripples and ruffles out of porcelain that could be organic matter lifted out of the ocean bead. Like Woolf, she draws a parallel between water, memory, and the thin membranes separating our thoughts. In The Waves, all six characters communicate internally, while their stories parallel the movement of the sun and sea over the course of one day. Different characters perceive these membranes as webs of nerve, steel rings, or smoke rings, but the fluidity of water binds their voices together.
• Terence photographed this Moon Jellyfish off the Caribbean island of Saba.
• Patti's Necklace mimics the texture of coral in white polymer clay.
• Heather's Coral Bowl creates a warm glow when a candle is placed inside.
• Jane's Bracelet accents a string of milky-white coral beads with white topaz pave.
• Monika's Scarf combines two layers of hand-dyed grey and purple silk chiffon.
• Maria's Wheel of Change Earrings interpret an Ancient Greek motif in sleek sterling silver.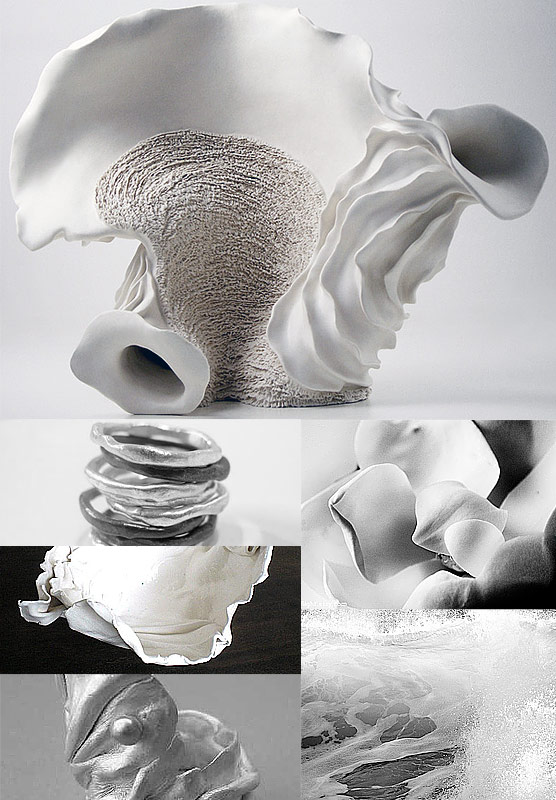 • Saara's Silver Bands are made by hand into organic, unique shapes.
• Gail's Ceramic Bowl has a dynamic, sculptural quality that resembles the crest of a wave.
• Alejandra's Ring is made from sterling silver, molded into a fluid shape and marked with touches of gold.
• Romina's photograph of a Magnolia records the soft gradations of its petals in black and white.
• Cate captures Waves at their most dramatic in black and white.