Today we had a dream about magenta, signifying nothing.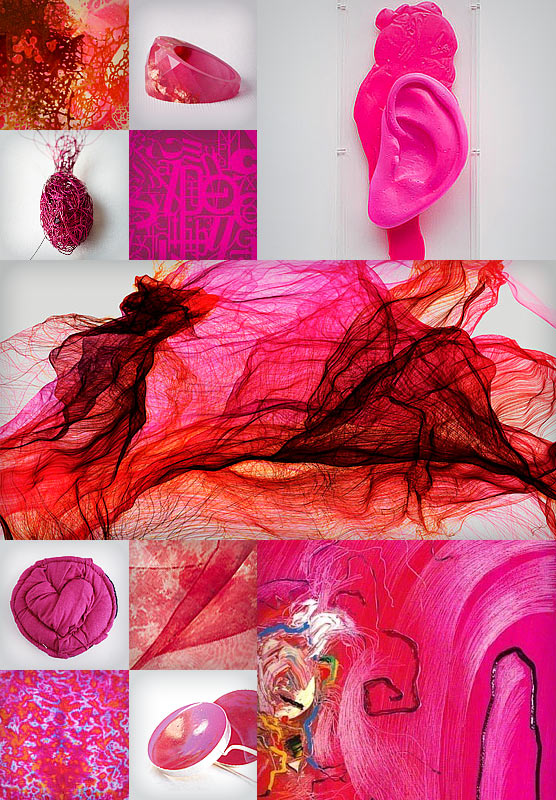 • Eno Henze's The Human Factor is a digital drawing that resembles thread unraveling in a gust of wind.
• Rodolpho Parigi's Ear is made of resin and acrylic in a shade of pink so bright and artificial that your eyes might fall out.
• Soile Yli-Mäyry's Sandfire achieves thread-like consistency with oil paint by combining broad strokes with a palette knife and thin scrapings. The anthropomorphic elements suggest the Lascaux cave drawings if they ever got a fresh coat of paint.
• Drew Beson's Starlore is a large abstract painting with layers of plant-like webs in magenta and gold.
• Jessica and Gwynne Burgess' Ring is made of faceted pink resin with touches of gold leaf.
• Gudrun Stolz's Pendant forms a fish with free-formed magenta wires and a Swarovski bead for the eye.
• Alana's Characters Print displays a feast of typography in pink and dark magenta.
• Vanessa R.'s Brooch is made of luscious magenta cotton and backed with dark cotton denim.
• Joanne Harris' Scarf is made of silk organza with a raspberry and beige batik pattern.
• James Preston's Scarf is silk tie-dyed in a psychedelic combination of amber, magenta, and coral.
• Michal Shabtal's Earrings frame big circles with a mix of reds in sterling silver.