She made visible that heartbreaking invisible place between the appearance and the disappearance of things.
– Richard Avedon on Lillian Bassman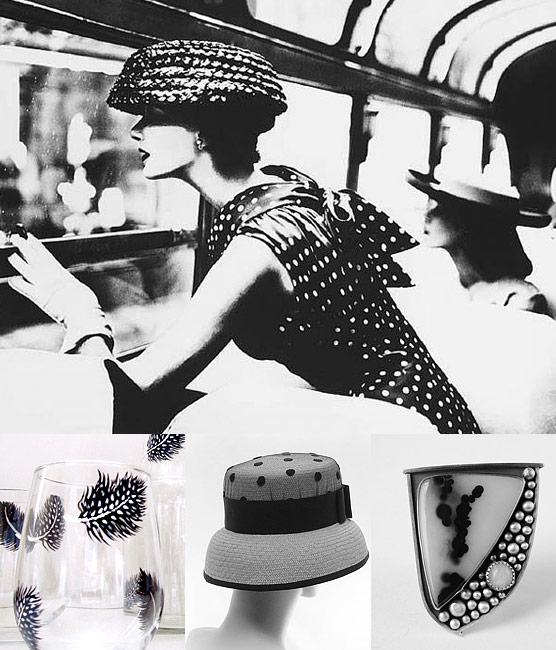 • Lillian Bassman captured the ephemeral and glamorous side of fashion with the eye of a fine artist. Haze and shadow obscure almost every face. The models never sit still and pose, but move as though unaware of the camera. Her photographs let us see the backstage and the performance at the same time. The fashion, no matter how outrageous, appears as a natural part of the atmosphere.
• Meena Kumar's Five Piece Wine Set would add a little black-and-white glamour to your next dinner party.
• Marcia Lacher's Cloche Hat accents Panama straw with black ribbon to create a chic and playful summer accessory.
• Lenita's Sailing Away Ring features a polka-dotted agate next to pale white studs, all framed by sterling silver.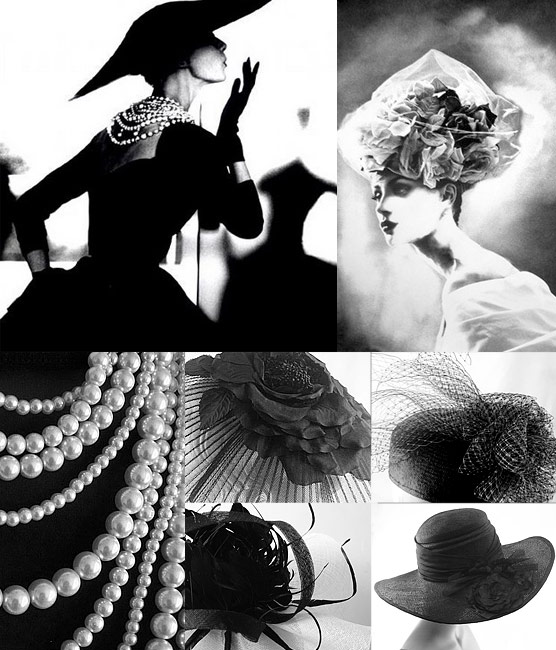 • Cynthia Bouvier's Coco Sophia Necklace brings back classic elegance with a cascade of ivory pearls.
• Brenda Nicole's Black Flower Headpiece floats a layered nylon flower on a woven straw base. Her Pill Box Hat is a tribute to actress Myrna Loy and uses a black lacquer technique that was popular in the '30s and '40s. All of Brenda's work is hand made and puts an exquisite spin on old Hollywood glamour.
• Beth's Ivory & Black Fascinator is a dynamic combination of ivory sinamay and black feathers, with a few black spirals.
• Marcia Lacher's Black Straw Hat has a wide brim with a black organdy band and hand-cut taffeta flowers. See how she makes hats by hand.