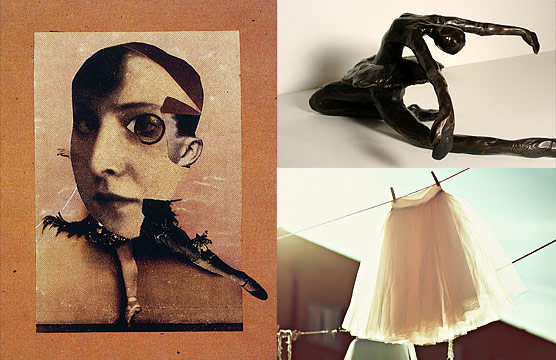 • Hannah Hoch, Russian Dancer, 1928
• Bronze Sculpture by Alberto Gallegos
• Hand Dyed Tulle Skirt by Monique Martinez-Sandoval
In 1928, Serge Lifar played the lead role of Les Sylphides in a female wig. Footage of his rehearsal at the Fetes des Narcisses in Switzerland surfaced last year, after a curator at the Victoria and Albert Museum in London identified the video that had remained unrecognized in an online archive. The original cataloguer had confused Serge Lifar for a woman. No footage of the Ballet Russes was thought to exist before this discovery. Watch the BBC coverage.
Hannah Hoch made Russian Dancer the same year the Ballet Russes performed in Switzerland. The body of Hoch's dancer is a pair of legs and a head, with a bit of costume cutting into the cheek. One tiny hand peeks out from the left side of the head. The cut-out photograph of a face appears to be peeling off to reveal the ear of an entirely different face, while a circle over half the eye belongs to yet another person. Like the wig worn by Serge Lifar, the layers of Hoch's collage make it unclear whether the dancer is a man or woman. Both Hoch and the Ballet Russes danced a fine line between art and absurdity.