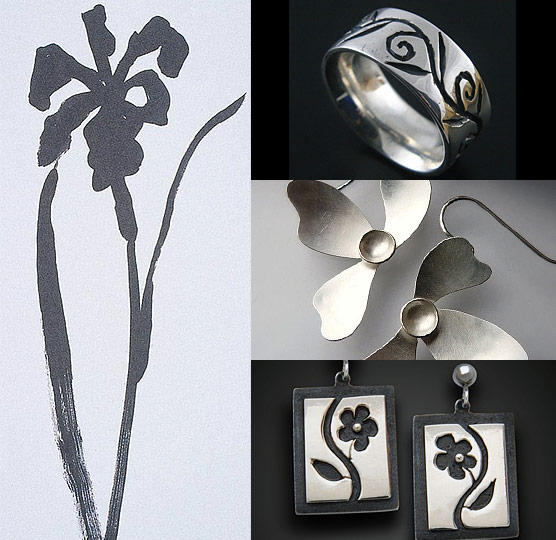 The exhibition of Ellsworth Kelly's plant drawings at the Met is a garden of contours and occasional watercolors. For over six decades, Kelly has been making studies of plants as intermediaries between nature and his abstract paintings. His brushstrokes and pencil lines strip the plants down to their essential shape, cataloguing botanical specimens with the detached eye of a modern naturalist. The stem of his Siberian Iris (1989) resembles the bold strokes of Chinese calligraphers. Plan your visit before September 3rd.
Kelly's Wild Grape (1961) is simple and yet, like all of his work, drawn and colored with spontaneous precision.
Debra Blazer's Sumi-E Earrings and Carved Vine Ring take inspiration from nature and Chinese calligraphy. She conveys the organic movement of a brushstroke into carved metal.
Katie Lime's Mini Iris Dangles transforms petals into effortless curves made of sterling silver.
Topaz Turtle's Apple Leaf Bowl has gold flecks in its lime green resin, like a lotus leaf hit by sunlight and rippling at its edges.
Jodee's Treehouse Scarf creates a multi-dimensional pattern of bright green leaves. Her scarves are playful experiments with paint, silk, and sunlight.