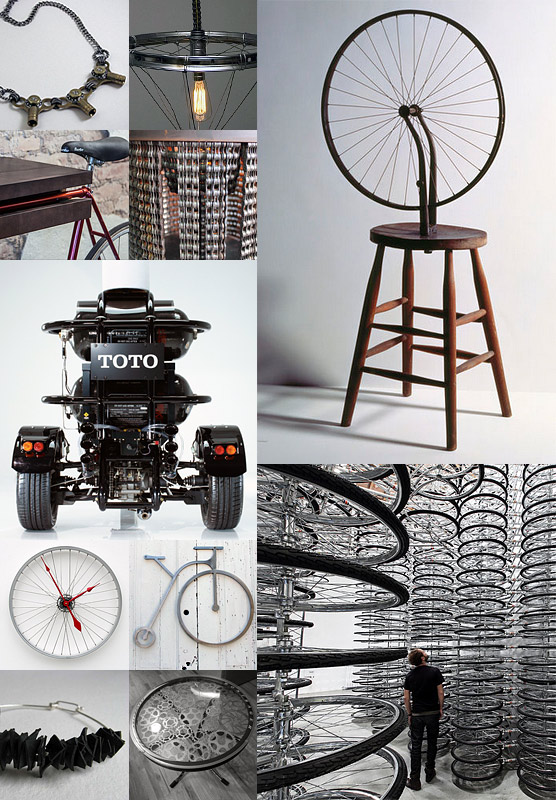 • Duchamp made Bicycle Wheel to amuse himself. He wanted to spin the wheel in his studio as a way to unwind. If he did have an idea behind what later became the first "assisted Readymade," it was the slippery idea of chance. Or, let's see what happens when we attach a bicycle wheel to a kitchen stool, because why not?
• Ai Weiwei's Stacked is a unified matrix of 760 bicycle wheels, which are made by the most common bike brand in China. While Duchamp's wheel was a source of personal amusement and individual contemplation, Weiwei's work carries a loaded message about China's industrial work force. Odd, then, that Duchamp's supposedly flippant gesture is more lasting and relevant.
• But wait! Fountain and Bicycle Wheel are reincarnated in the TOTO Bike, a motorcycle that runs on human waste.
• Anne's Necklace combines old valve keys and Winchester 38 Special bullet casings, and suspends the intricate design from an antique silver curb chain.
• Ingrid Chandelier creates a refreshing twist on a classic lighting fixture with a cage constructed using recycled bicycle parts.
• Maksim's Fixa Shelf provides an elegant way to store your bicycle and display your favorite objects.
• Caro's Table Lamp glows behind a curtain of bicycle chains.
• Allan's Wall Clock brings out the sleek and symmetrical beauty of a bicycle wheel.
• Pete and Tanya's Bike Sculpture is a steel silhouette of the Penny Farthing.
• Julia's Bracelet is made of reclaimed tire tubes that are cut and stacked to create texture.
• Debbie's Table is made from recycled bike parts, with an intricate network of gears that appear to spin in air under the glass surface.