The ivory breathes. Soft, porous skin curves in the carved-out petals of an iris, framed by a white canopy of wildflowers. The palm-sized pendant has a lost twin, a rose, which may still live in an antique shop or, forgotten, in a drawer. The iris belonged to my great-grandmother, Zelma, and her sister Emilija Francisca had the rose. But let's start from the beginning.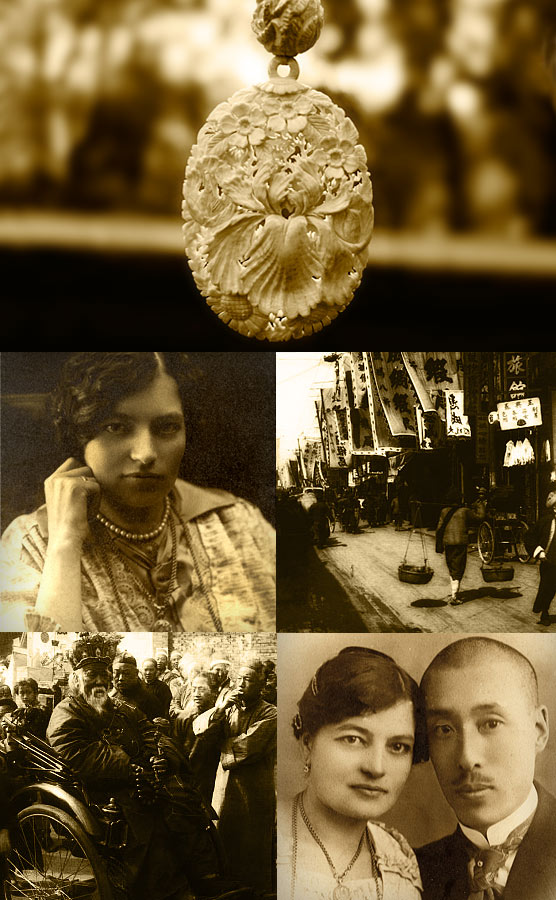 The cast: (left to right) Emilija (my great-great-grandmother); China in the 1920s; Emilija and her husband
In 1923, Emilija arrived in Harbin, the Ice City, tucked in the northeastern corner of China. The winters there were even more bitter than those she was used to in Riga, where she left behind a marriage to a mad pilot and two young daughters. She married a Chinese diplomat, a wealthy one with a wicked sense of style. I mean, look at that tie.
Emilija's first husband, Janis Steglau, was an engineer, aviation pioneer, entrepreneur, and millionaire by the age of forty. To his two daughters, he was an eccentric with a tendency to get so absorbed in his work as to allow a liberal dose of mischief. He was a daredevil, obsessed with constructing airplanes and willing to fly them himself when everyone else thought it too dangerous. A staunch capitalist and thoroughly self-made man, he refused to work with communists, even though they offered him a comfortable sum for his engineering skills. He moved to Argentina and offered to take Zelma and her sister with him. They refused. So began their upbringing in an orphanage.
It's not that their mother neglected them. She wanted them to join her in China, and sent them money on two occasions. The first time, the money disappeared, when the bank they used to withdraw it closed down. The second time, greedy relatives intervened and took the money for themselves. Two young children could hardly put up a fight. Emilija never saw them again, but she sent two pendants, one for each sister, before she died.
The cast: (left to right) Emilija Francisca (left) and Zelma (right); their brother Arthur (who went to China) and half-brother (the child of Emilija and the Chinese diplomat); yours truly in Riverside Park; Emilija Francisca
Growing up in an orphanage gave the sisters a thick skin and no-nonsense attitude. Zelma was the practical, down-to-earth one with a firm belief in proper table manners. Her sister, Emilija, was more flamboyant and fashionable, and never, ever, left the house without matching gloves, shoes, and hat. She had mastered the silent movie star look.
Emilija Francisca married Walter Koppel, a Jewish man, and they were forced to flee Riga during World War II. After a brief goodbye with Zelma in Berlin, Emilija and Walter narrowly escaped onto a boat bound for the States. Where they settled and what their lives were like is a mystery, as the Iron Curtain put a stop to all communication between the sisters. The rose must have arrived in New York, where, fifty years later, the iris followed.
If you know where the rose lives, get in touch.