Before Picasso stuck newspaper on his canvases, random objects were not welcome in the bubble of art. Textiles and paintings lived far apart. Now, fabrics mingle with paint, slowly chipping away at the distinction between art and craft.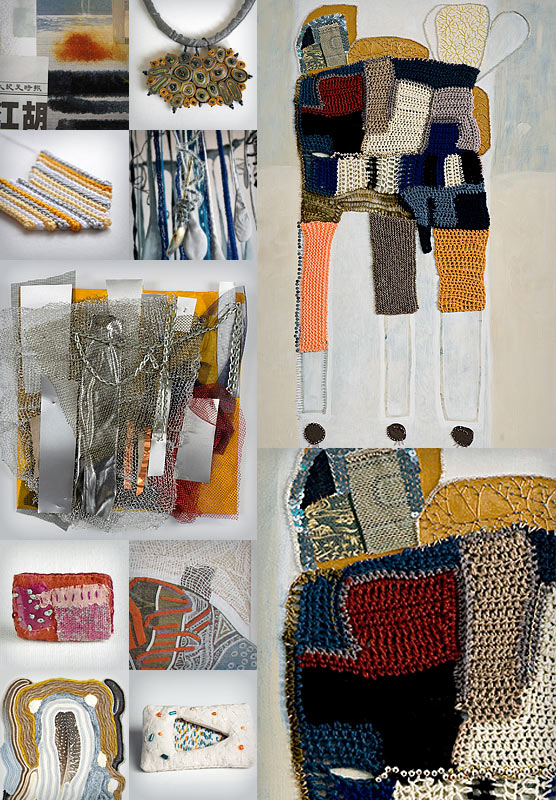 • Tracy Potts' 600,000,000 Million Moments of your Life that have Simply Disappeared is the amount of time you just spent weaving through the maze of abstract crocheted patterns. Her work hints at animals, like this winged horse, but remains an enigma wrapped in rich textures. She mixes crochet, sewing, knitting, and paint into self-contained fantasies.
• Renée Lerner's Silver on Yellow echoes Tatlin's corner counter reliefs with its tension between wire mesh and smooth metal scraps.
• Mandy Patullo's Get the Look is a monotype with ink and collage reminiscent of watching a rust-red sun set into the water.
• Audra Zili's Necklace suspends a cluster of spirals made of green, gold, and silver ribbons dotted with graphite beads.
• Alise's Necklace is a crocheted arrow in grey, white, and yellow stripes.
• Isao's Textile Sculpture is a cascade of water droplets made of blue silk and mesh, all supported by a vintage salad bowl made of iron.
• Britta's Brooch combines pieces of silk, cotton, and linen in pink, red, and turquoise.
• Marta Mouka's Rock Formation is created by applying thin strips of silk to the canvas. The layers give rich pattern and depth to the dream-like landscape.
• Mandy Besek's Tapestry is made of yarn encircling a spotted feather.
• Mio Mio's Brooch frames an embroidered triangle in a creamy pillow accented with yellow and blue beads.