We love the English, but we prefer coffee in the afternoon and tea all day. We do have a few stand-by teas that are always on our shelf, but we love to mix things up and experiment with new blends. Because we're either drinking tea or waiting for it to steep, we thought we'd share some of the blends in rotation at the moment.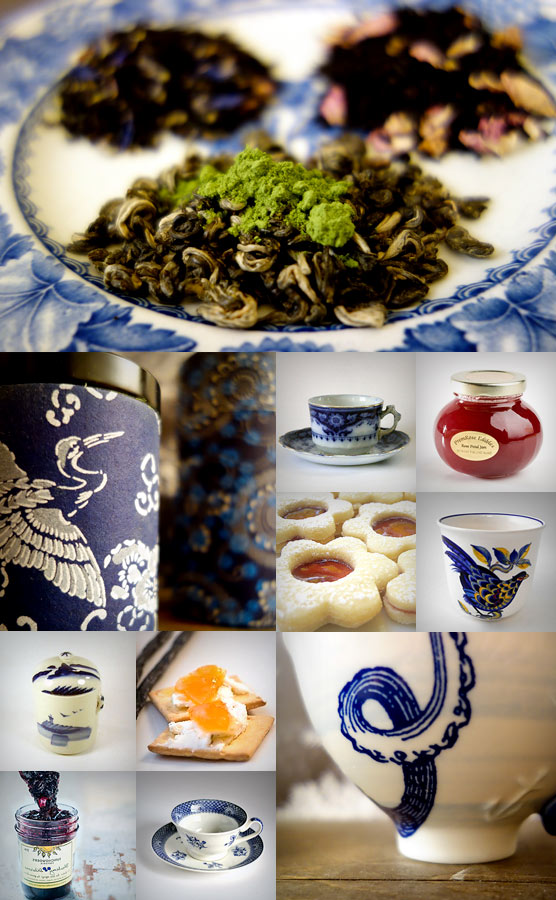 Handmade & vintage goodies from Etsy (clockwise):
Crumlin Flow Cup by Beach Towne Vintage; Rose Petal Jam by Prem Rose Edibles; Copenhagen Coffee Cup by Transitions; Raspberry Linzer Cookies by Tereza; Blue and White Jar by Karen's Chic N Shabby; Canteloupe Vanilla Bean Jam by Lemonbird; Blue Calico Teacup by The Mab House; Blueberry Jam by Sunchowder's Emporia
Summer Rose
Rose tea is tricky, but when it's done right you feel as if you're sitting in a parlor with the windows open and overlooking your carefully dissheveled English garden. Most rose teas get the proportions wrong. The rose flavor is too strong and your cup tastes like an elderly aunt accidentally poured her perfume in it. Perhaps it wasn't an accident and she really is as devious as you suspected. Anyway, this blend of rose and Ceylon black is fragrant but not overpowering. It works hot or chilled; both are fantastic and each brings out a slightly different set of flavors.
Earl Grey Lavender
Lavender seems like an odd addition to tea, especially to such an unimpeachable classic like Earl Grey. But we have taken quite a shine to this combination, and we promise it won't remind you of a well-kept linen closet. Earl grey is another hit-or-miss blend for us because the proportions often overemphasize either the citrus or the bergamot instead of forming a lovely menage a trois with the black. Here, the proportions are just right. The zesty eagerness of the citrus and calm demeanour of the lavender work together, like Wooster & Jeeves in their best moments.
Jade Snail (with a twist)
These little knots unfurl into a subtle flavor with none of the grassiness often associated with green tea. We like to add a tiny pinch of matcha to intensify the flavor and turn the pale yellow color into vivid green, like a leprechaun sneezed in your cup. Another green that we've been loving recently is Calypso, so much so that we finished it before we could take a picture. The hint of fruit and coconut give it a pina colada taste that doesn't overpower the green, especially when you add a bit of matcha. We can't wait to brew this one iced with a few pieces of real fruit.
Tea Tins
Our tea shelf looks so much more polished and put together with these tins, each with a different pattern but all in shades of blue. We got these on Amazon in big and small sizes to accomodate our must-have favorites and samples.
Teacup of the Moment
This cup from Anthropologie has had its fair share of sea voyages, if you count in leagues of tea, that is. The sailing ship and octopus tentacles that loop around the outside remind us of Delftware and the trade routes established by the Dutch East India Company to bring tea from China. This cup is definitely not dainty; it's quite large and thick, with a wide tentacle handle. It even works well as a soup mug.