Where does the eagle fly beside the elephant? They meet in Macau, where Portuguese priests brushed against Chinese traders, and head west, past the Indian port of Goa (where this multi-tusked elephant must avoid ivory carvers), around the Cape of Good Hope, up towards the Azores (where eagle confronts the namesake of this Archipelago, the goshawk), and straight east to Lisbon.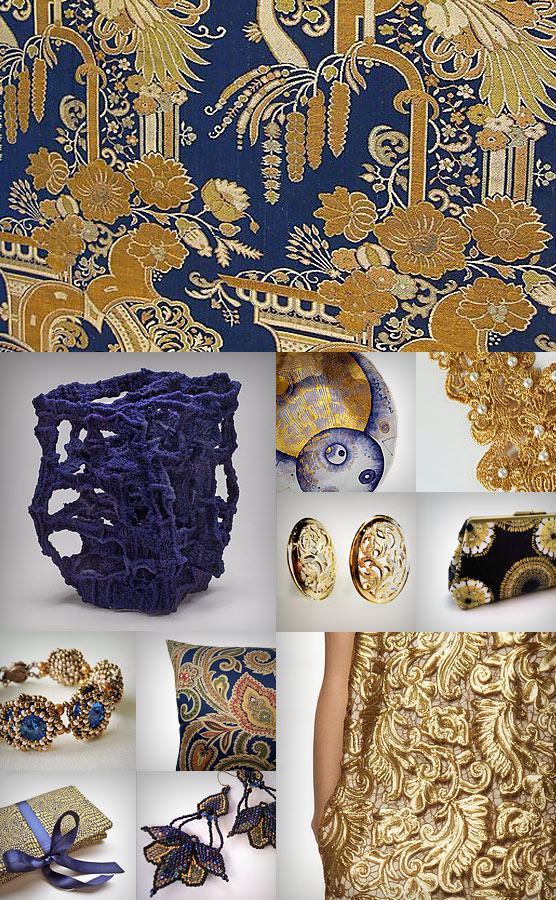 Length of Woven Silk; Dress by Dries Van Noten Spring 2014; Stitch Work by Chiyu Uemae
Handmade items to buy: (clockwise) Plate by Liz Quackenbush; Collar by Foxine; Clutch by Julie Lange; Earrings by Eniko; Bracelet by Charlotte; Pillow Case by Cody and Cooper Designs; Earrings by Catherine Ross; Jewelry Roll by Jennifer Carter
The unlikely friendship of the double headed eagle and Asian elephant was born from the union of sacred and secular currents moving through trading relations between Portugal and China. Finished cloth, like this silk damask, formed the backbone of trade because it was the most impressive, conspicuous evidence of what the traders were doing in distant lands. The textiles that traveled from Macau to Lisbon developed a visual language that merged Chinese and European imagery. Chinese decorative elements were well-suited to the ornate style of Portuguese religious ceremonies, and the exotic textiles were proudly displayed in public festivals, weddings, and commemorative events. Elephants and chrysanthemums were welcome in the Garden of Eden.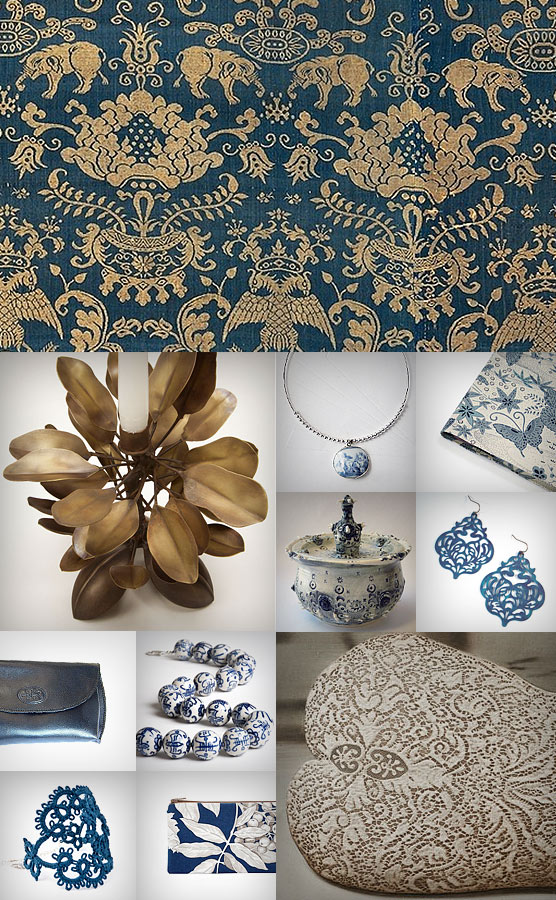 Silk Damask Textile; Protea Candlestick by David Wiseman; Sophie by Antonio Santin
Handmade items to buy: (clockwise) Pendant by Nance; Journal Cover by Liz; Earrings by Meghan; Cake Canister by Laura Hewitt; Clutch by Amiel Leather; Necklace by Heidi; Pencil Case by Bloomi Paris; Bracelet by Decoromana
These textiles prove more than the triumph of the Portuguese in Asia, the easy flow of money that follows luxury goods. The journey of the elephant and double headed eagle – one animal described in a Buddhist sutra and the other the crest of the Hapsburg empire – proves the triumph of the image. How else can diplomacy rest between the threads of finely woven cloth?