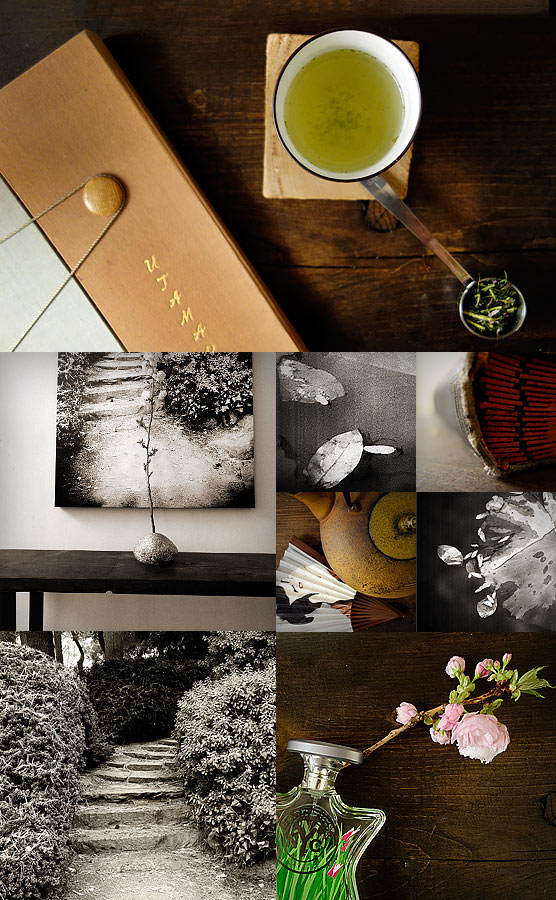 Sakura sencha from Rishi Teas; Vintage Utamaro book; High Line by Bond No. 9; Bridge of Scarlet Leaves and Mappa Mundi by Lost Meridiem Productions
We recently got a console table from Dendro, Co. a company based in Chicago that sells furniture made from reclaimed wood. Our wabi-sabi tastebuds have been salivating over the grooves and patterns in its wood surface — a douglas fir salvaged from a blacksmith shop that predates the civil war. We were delighted to receive some wood coasters painted with our initials as an unexpected surprise.
We thought this table would be the perfect backdrop for displaying some of our favorite items of the moment — tea, books, well, what else is there really.
Cherry blossoms are starting to bloom and we plan on enjoying their short-lived appearance to the fullest. Here are some of our sakura season essentials.
1) Rishi Sakura Sencha
We've tried quite a few green teas flavored with cherry blossom leaves, but this one is our favorite. It doesn't have any of the fake, bubble-gum flavor that comes with many other sakura sencha blends. Just green tea and flowers — exactly how we like it
2) Bond No 9 — High Line
When we first wandered into the Bond No 9 store on Madison Avenue, we were in awe. The bottles are sculptural works of art and the scents — well, it was the first time we were tempted by anything other than Christopher Brosius' fragrances. The High Line scent is like a meadow of wildflowers — ironic, considering its namesake weaves rises about rows of concrete. It's grassy without being sharp, floral without being cloyingly sweet.
3) Ticket to the Brooklyn Botanical Gardens
They say the beauty of cherry blossoms in full bloom is too obvious, and that yet unopened buds or fallen petals make a more lasting impression. We're not that picky. We want to gorge on clouds of pink at the peak of their lushness. The BBG has a map that tracks the status of their cherry blossoms so you can plan your feast accordingly. They even have markers for "post-peak bloom" for all the wabi lovers.
4) Kokinshû
The Kokinshû is an anthology of Japanese poetry compiled around 900, but the vivid imagery remains as dew-fresh as ever. Sleeves scented with plum blossoms, warblers singing, melting snow, and brocades of willows and cherries mingle in the spring poems. There are contributions from monks, empresses, and courtiers, but our current favorite is by an anonymous poet:
In these mountain heights
There is no one to sing the praises of
You cherry blossoms.
Do not be aggrieved
For I will do it.
5) Lost Meridiem Productions Prints
Our last sakura season essential will get its own proper blog post, but we're too excited not to mention it. We've finally opened up our own Etsy shop where we sell canvas prints of our photography. We have a big one hanging right above our console table and it looks pretty impressive. The rich texture of the leaves came out well and the curving path gives a sense of depth so tempting that we often joke about jumping right in. Can you tell it was taken in the BBG? We took the photo in the fall, and we're thinking of going back for a spring edition of the same view.