Before you take off for your travels, pack your essentials in one of these classic bags.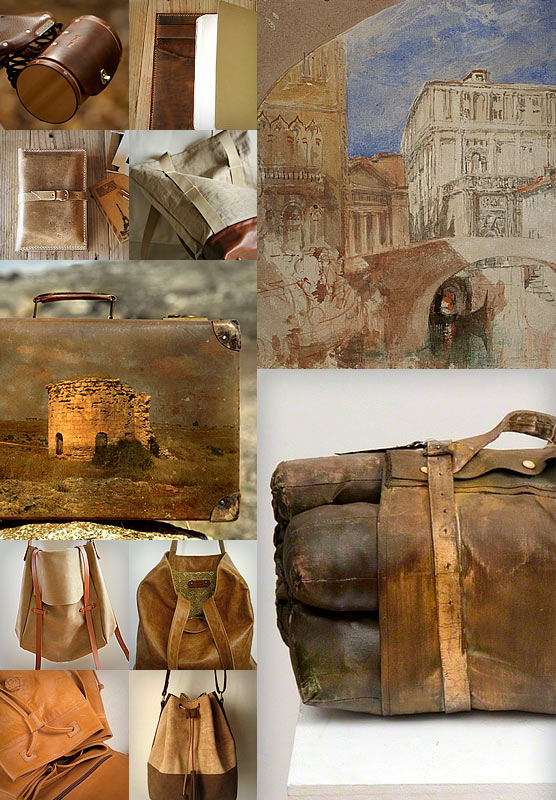 • J.M.W. Turner's sketch of the Church of San Luca in Venice is one of hundreds he made of the floating city. He painted this particular view in 1840 on his last visit, the same year his famous Slave Ship was exhibited. With only a few washes of watercolor Turner captures the weight and history of the buildings bathed in light.
• Yuval Yairi's Memory Suitcases use old, worn out luggage as canvases for landscapes of ruins and dry grasses. The sepia tones make them look like travel photographs from the mid 19th century.
• John Outerbridge's Case in Point is a bundle of leather strips with a tag that reads "packages travel like people." Made in 1970, this work is a response to the artist's experience of being told to stand in the back of the bus in the mid 50s even though he was dressed in army uniform.
• Walnut Studiolo's Seat Barrel Bag is made of vegetable tanned leather and attaches to the back of your bike.
• Just Wanderlust's Leather Portfolio fits your iPad mini, Moleskines, and other essentials for recording your travels. Their Moleskine Cover is made of taupe leather and fits the classic pocket or reporter notebook.
• Mariangela's Tote is made of natural linen with a leather bottom for a sturdy yet light bag.
• Weltfremd's Bag is made of light brown nubuck with vegetable tanned leather straps.
• Nina's Tote is made of caramel brown leather and lined with a pale green floral print fabric.
• Pere and Sara Ventura's Backpack has a drawstring top that opens to a large space perfect for carrying all of your travel gear in one.
• Nick Suen's Bag is made of light khaki and dark brown leather with a thick cross-body strap.