Dress and manners reached the pinnacle of restriction in the eighteenth century, but the paintings suggest a social landscape of extreme frivolity. We've put together a small tribute to that dynamic in a creamy yellow and pink palette.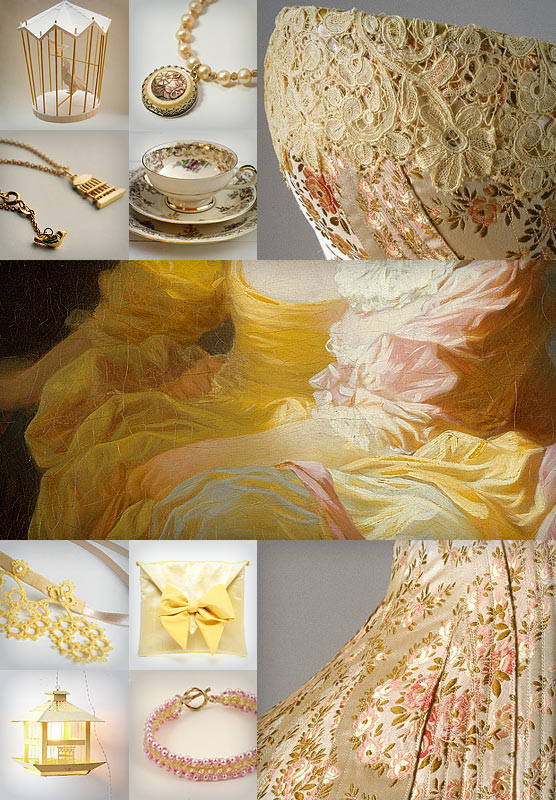 • Jean Honoré Fragonard's Two Sisters marks the painter's transition from pursuing a career as an academic painter to working for private patrons. There was simply more money in catering to the tastes of the rich. And his unique brand of frivolity and luscious color was stifled in academic subjects of history and myth. The boudoirs and dressing rooms were playgrounds for his creamy brushstrokes. The sisters here are very young, and yet they share many of the same qualities as much older sitters. Fragonard was perhaps the most able to infuse his work with the Rococo's incurable appetite for youth.
• This Corset dates back to the end of the 19th century, right before rigid undergarments gave way to less constricting silhouettes. This example is actually more forgiving than its predecessors, which forced the waist into a sharp cone shape. In Fragonard's time, corsets were laced tight, and the skirts were flat front-to-back and wide side-to-side, making it hard to pass through doorways. Read more about the history of corsets and hoops here.
• This Bird Cage by Paper in the Pocket has to origami birds sitting in a cage made of wood and paper.
• Candace's Necklace suspends a mother of pearl pendant, carved with a floral design, from a string of creamy pearls.
• Christine's Necklace has a gold cage with one bar missing and a free bird at the clasp.
• Circe's Tea Set includes a 1940s tea cup, saucer, and decorative plate with a gold floral design.
• Orsolya Springer's Anklet is made of yellow lace flowers attached to a pink ribbon with white glass pearls.
• This Clutch by Blackbird's Pearl is made of pale yellow silk as luscious as the dress of one of Fragonard's dresses.
• Kalyn's Hanging Light is an antique metal birdcage wired from a silver cord.
• Karen's Bracelet is made of yellow and light pink Swarovski beads and pearls.