O Art, if thou were able to depict conduct and the soul, no lovelier painting would exist on earth.
– Martial (translated inscription in painting)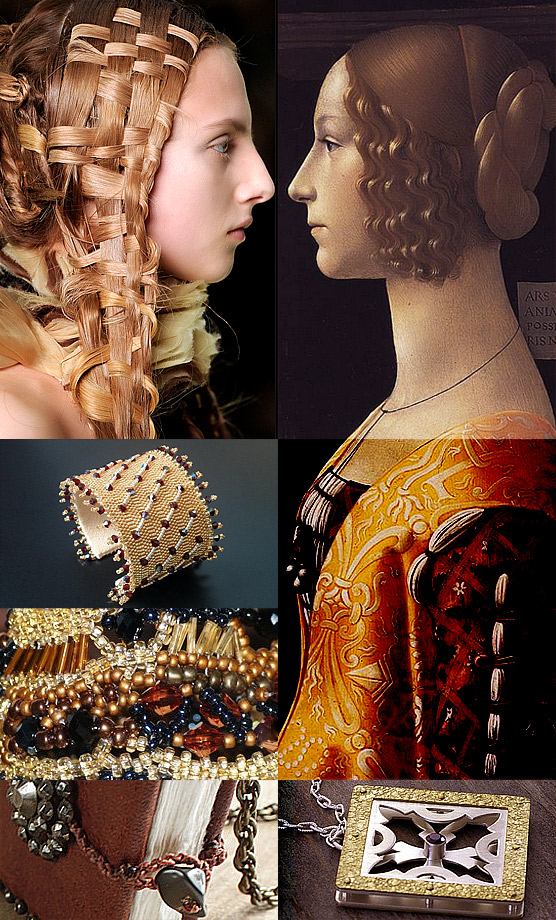 • Before profile pictures became disposable, Domenico Ghirlandaio painted the iconic profile of Giovanna Tornabuoni. She was the wife of Lorenzo Tornabuoni, whose brother Giovanni was Ghirlandaio's most important patron and a VIP in Florence. After her early death, Lorenzo kept this portrait in his room for many years, even after he remarried. The incredibly detailed dress and jewels reflect Ghirlandaio's identity as both artist and artisan. He ran a successful workshop during the transition between the medieval structure of art production, which focused on crafts and guild structure, to the development of painting and the glorified painter in the Renaissance.
• Alexander McQueen's Spring 2011 Collection featured an intricate, woven hairstyle worthy of a Renaissance portrait.
• Emme's Beaded Cuff is a royal combination of gold beads and garnet Swarovski crystals.
• Connie's Black Gold Cuff weaves together a rich texture of golden and dark blue beads.
• Mia's Book Pendant is a modern version of the girdle books monks carried during the Middle Ages. Instead of carrying a Bible, this pendant holds a mini notebook wrapped in luscious leather.
• Susan's Pendant Necklace hints at medieval stained glass with an amethyst stone set in a sterling silver silhouette and brass frame.