I want to sing like the birds sing, not worrying about who hears or what they think.
– Rumi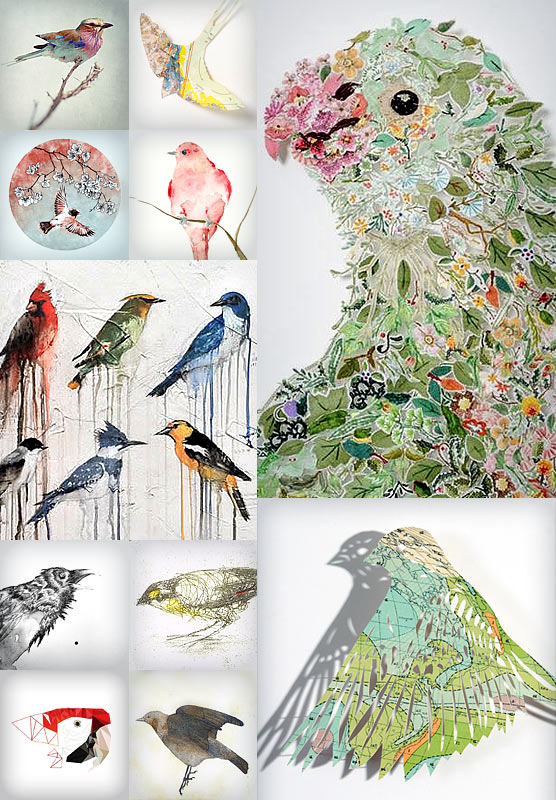 • Louise Saxton's Queen Billie is a tapestry of discarded needlework fragments, gathered and layered on sheer tulle. The pinning process is similar to painting with a brush, a modern counterpart to Audubon's catalogue of birds.
• Claire Brewster's Birds are cut out of old maps and atlases.
• The petals and feathers of Michael Dickter's Birds and Flowers bleed in colorful rivers against an off-white background full of smudges, marks, and scratches.
• Vanessa Quijano's Coracias Caudatus captures the tiny bird's lilac and blue feathers in Namibia.
• Bombus' Flying Birds are cut from vintage maps, and you can even choose the destination if you like.
• Cynthia's Vivid Niltava is a woodblock print inspired by the flora and fauna of Taiwan.
• Catherina's Red Bird has translucent layers of watercolor for feathers.
• Kristin Sarette's Prior to Investigation is a lithograph with tusche wash that renders the feathers bristling with texture.
• Bridget Farmer's Paradote is an etching of a little bird native to Australia.
• Silvio's Macaw Arara is a large digital print of the bird's head deconstructed into geometric fragments.
• Kyoko Imazu's Chestnut-Cheeked Starling is two plate etching and aquatint that merges ultramarine blue and warm red for a rich coat of feathers.