Have you ever wondered about the stories behind old photographs? Snapshot Stories is a series of short, fictional narratives prompted by that curiosity. This installment features an image taken by Vivian Maier. Click here to look at other stories in the series. For a more in-depth look at Maier's work, take a look at Artsy's page which includes images, articles, and information about upcoming exhibitions.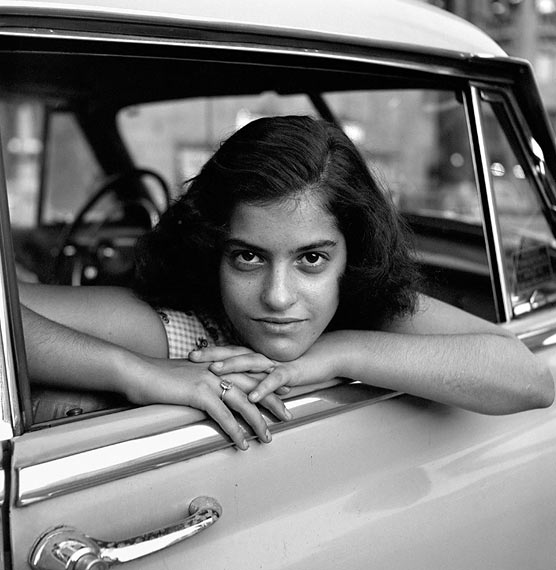 Vivian Maier, August 16, 1956, Chicago
I know what you're thinking. A clear plastic gemstone set in a fake silver band doesn't look like much. It's probably the cheapest engagement ring you've ever seen.
Johnny will be back any minute. He's probably brushing and teasing and gelling his hair until it forms a poof in the front. I wish he would just put on a hat, like Marlon Brando in that motorcycle movie.
I know you think it'll never last. That a bunch of sixteen year olds won't last a twelve hour road trip with nothing but ten dollars for the both of them. Well, first of all, I've got seventy-nine cents in my back pocket that I haven't told Johnny about. We can get two super jumbo banana split sundaes with that once we get to New York. Second, we've got nothing to return to here. I don't even have a bag with me. Lean in and check, if you want. All I've got is this ring and this car and a bucket of ice water melting at my feet.
I'm telling you all this because I can see you're not from here. Prim and proper, with leather shoes in this heat. If it wasn't for that wide brimmed hat I'd say you look like one of my schoolteachers whom I won't be seeing come September. She'd be pleased at my proper use of "whom," less so for this ring.
There's Johnny now, holding a pair of boxing gloves and leather lace-up boots. I swear he thinks he's made for a street gang. Don't tell him but I think he'd get knocked out before he even tried.
Have you got your shot yet? I can't imagine what you'll get out of it. It's hardly the cover of Life, now is it?