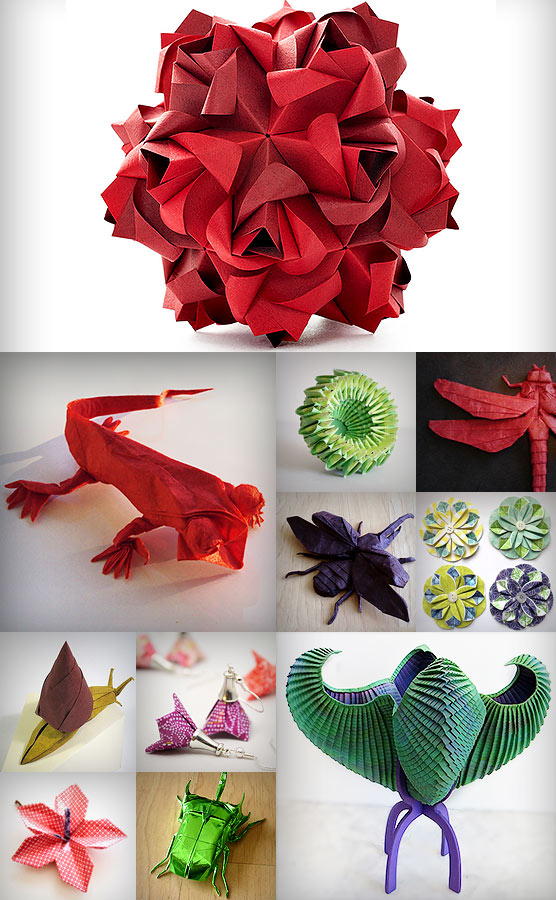 Little Roses Kusudama by Maria Sinayskaya; Lizard by Jason Ku, folded by Matthieu Georger; Constrained Bowl by Linda Smith; Dragonfly by Shuki Kato; Flying Hercules Beetle by Shuki Kato; Snail by Nguyen Hung Cuong; Eupatorus Beetle by Shuki Kato
Handmade items to buy: Paper Bowl by Ruti's Roots; Coastal Collection of Flat Origami Flowers by Paper Bird Co.; Bellflower Earrings by Sarigami; Origami Hair Pin by Dana Dellus
I once heard a story about a nobleman in Edo Japan with an unusual hobby. While idle warriors strolled through his gardens and floated on pleasure boats over his pond, the man himself spent most of his time in a greenhouse filled with plants made from folded paper. Sliding glass doors, framed by simple wood paneling, opened into a greenhouse independent of the seasons and forms illustrated in botanical encyclopedias.
The greenhouse bloomed by the hands of one man, the gardener, who entertained the nobleman with his skill at transforming pieces of paper into leaves, vines, and petals so complex, so life-like, that they began to emit a fragrance all their own. The nobleman's sleeves would absorb traces of these scents, which, at formal events, would attract the attention of fellow members of court. The ladies forced their attendants to send him notes, asking in roundabout phrases to invite them to his greenhouse.
But it remained closed to curious visitors, fueling speculation that withered into envy among those who resented any pleasure that remained inaccessible to them. To preserve his reputation at court, the nobleman closed the greenhouse and sold its contents to Dutch traders at the port of Dejima. We can only speculate about the fate of the gardener's work. Perhaps some of it crossed the seas and found its place alongside other ageless blooms in the homes decorated with vanitas still lifes.
Surface to Structure, an exhibition of origami works will be on view at the Cooper Union from June 19th until July 4th.