A new exhibition at the Towner Gallery in Eastbourne looks at the work exhibited at the Lyons teashop in the 1940s, which commissioned British artists for paintings that would brighten up teashops ruined during the second world war. We selected one of the paintings and put it in company with some whimsical teapots and our favorite teas.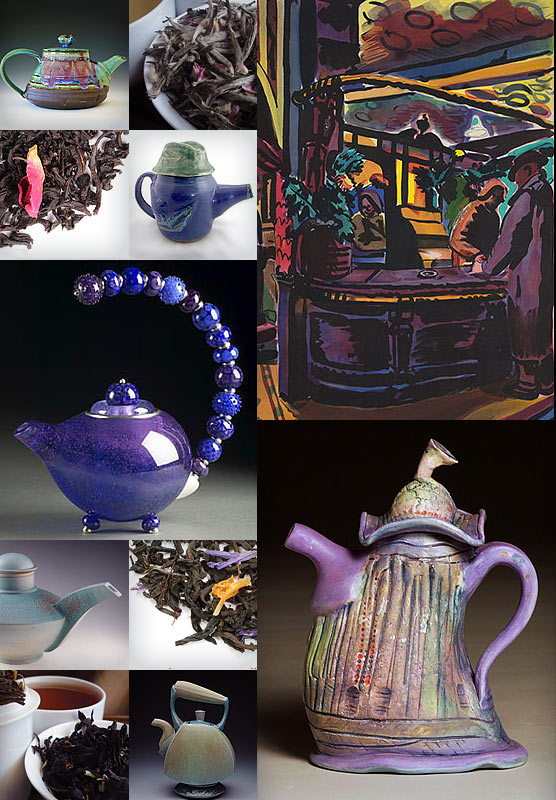 • George Hooper's Hotel Entrance looks like what would happen if a Fauvist directed a film noir, with bright colors living alongside shadows.
• Kristina Logan's Violet Teapot is cast in glass and has a handle of lampwork beads the Hatter would be proud of.
• Susan Thomas' Teapot looks a little bit like a purple slug moving in a rippling motion.
• Kazem Arshi's Teapot partially covers deep brown clay with layers of turquoise and purple glazes.
• Butiki Teas' Watermelon Xylophone is a light blend of silver needle, amaranth, and organic watermelon flavor.
• Adagio's Summer Rose is our favorite drink of the summer. The blend of black tea and rose petals is not too sweet or overpowering.
• Elena Miller's Purple Man Teapot has a green hat to keep your tea warm.
• Dan Saultman's Teapot has a rich patina of copper shimmering through gradations of light turquoise.
• Adagio's Earl Grey Moonlight adds a touch of creme to the traditional blend for an even more decadent companion to your scone.
• Butiki Teas' Caramel Vanilla Assam combines assam with all natural flavors that taste like dessert without being too sweet.
• Frank Saliani's Teapot has a unique, whimsical form with blue-green glaze.