Between what I see and what I say
Between what I say and what I keep silent
Between what I keep silent and what I dream
Between what I dream and what I forget:
Poetry
– Octavio Paz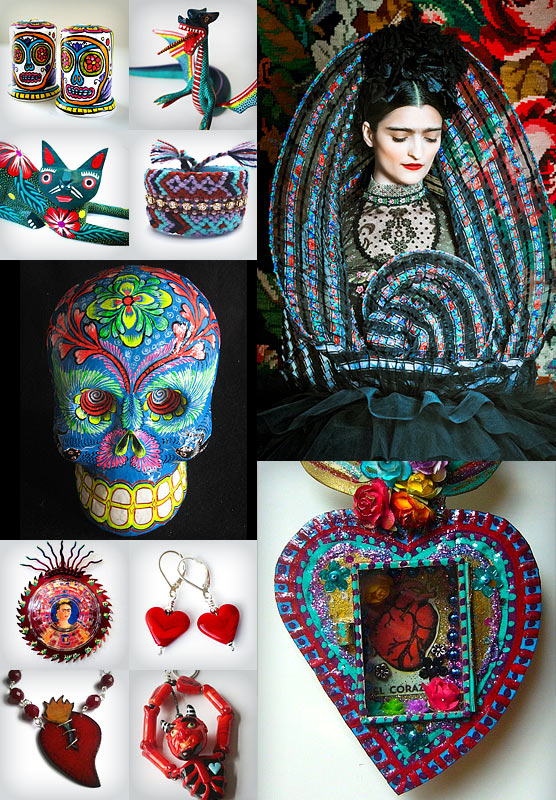 • Susanne Bisovsky's tribute to Frida recreates the suffocating florals of her self-portraits, presenting her almost as an icon of her own brand of disturbing whimsy.
• Felipe Linares' Skull has reptiles and psychedelic flowers painted on its paper mache surface.
• Madeline Stevens' Tin Nicho frames EL Corazon in a glass door surrounded by a flaming heart, all decorated in luscious colors, glitter, and paper flowers.
• Sarah Constantino's Salt and Pepper Shakers are hand painted with dramatic sugar skulls, leaves, and flowers.
• Juan Garcia's Cat Alejibre is an Oaxacan wood carving hand painted with tiny dots and vibrant flowers.
• Blanca's Bracelet is a collaboration with Oaxacan weavers and has a line of crystals and violet beads running along the center.
• Gilbert Candelaria's Frida Tribute frames her portrait in a glass dish, recycled sawblade, and construction nails.
• Lunacy Glass' Earrings suspend glass hearts from sterling silver wires. Their Bracelet is a glass devil with a blue heart stretched out over your wrist.
• Marisol Apostol's Necklace is a flaming copper heart surrounded by dark red glass beads.