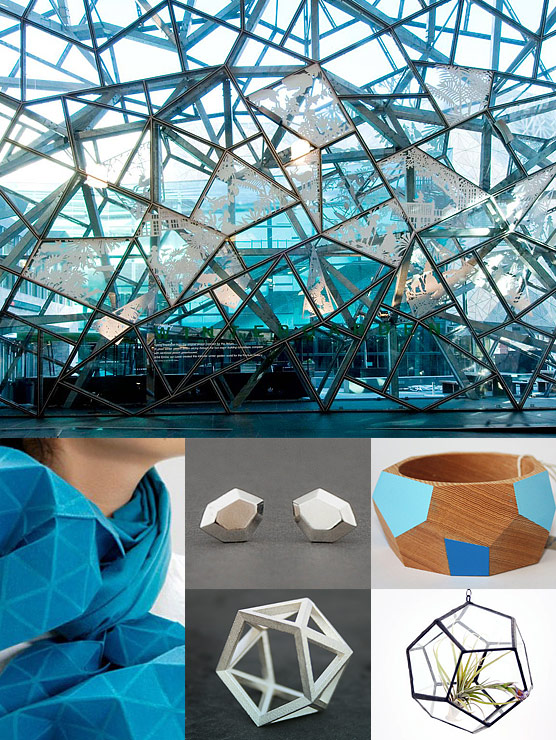 • Australian artist Emma van Leest cuts paper into intricate, fantastical scenes. Her installation Wintergarden took paper stories to new heights, literally. Plants, deer, and ladies in Victorian dress covered some of the glass panels of the Fracture Gallery, located in Federation Square, Melbourne. From a distance, the paper cut-outs suggest subtle stained glass, or a giant spider web. Read this interview with Emma to learn more about her process and source of inspiration.
• These Origami Scarves by Monomatopee rely on you to fold, bunch, and inflate them into endless variations. Yes, you can inflate your own scarf to create wearable, geometric art.
• Clara Cho's re-invents the gemstone in a modern, sophisticated pair of Faceted Polygon Studs made from sterling silver.
• Timothy James harnessed his experience in industrial design and modern production techniques to create his three-dimensional Skeleton Ring.
• The Hillevi Bangle by TreeHorn Design is made from sustainably grown Douglas Fir that's been polished into geometric facets and painted with blue accents.
• Meg's Hanging Terrarium will frame your plants in a dodecahedron made from recycled glass.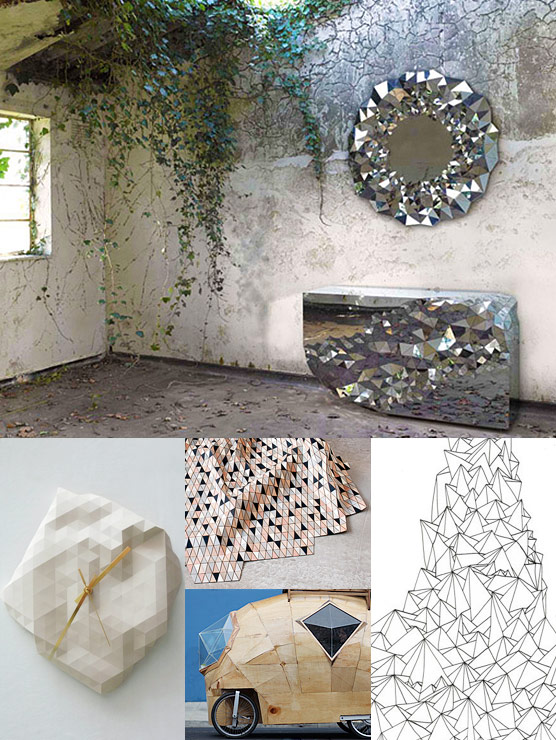 • The Stellar Console & Mirror by English furniture designer Jake Phillips mimics a precious stone that is still part of a natural rock formation. The angled mirrors create an uneven surface that reflects and ripples light.
• The Faceted Wall Clock by Raw Dezign resembles a complex origami sculpture, but it's actually made from a flexible, off-white resin.
• German designer Elisa Strozyk created Wooden Textiles by fixing wooden facets to fabric, so that the work transitions seamlessly from floor to blanket.
• San Franciso artist Jay Nelson creates these odd but charming Wooden Cars from facets of plywood.
• Kristy Modarelli's Systemic 6 is an original ink drawing that looks like a castle of origami sculptures. It's part of The Aldas Project, which donates $25 of every ink drawing sold to one of three non-profit organizations.