This geisha's strongest weapon of attraction is her paper folding skills.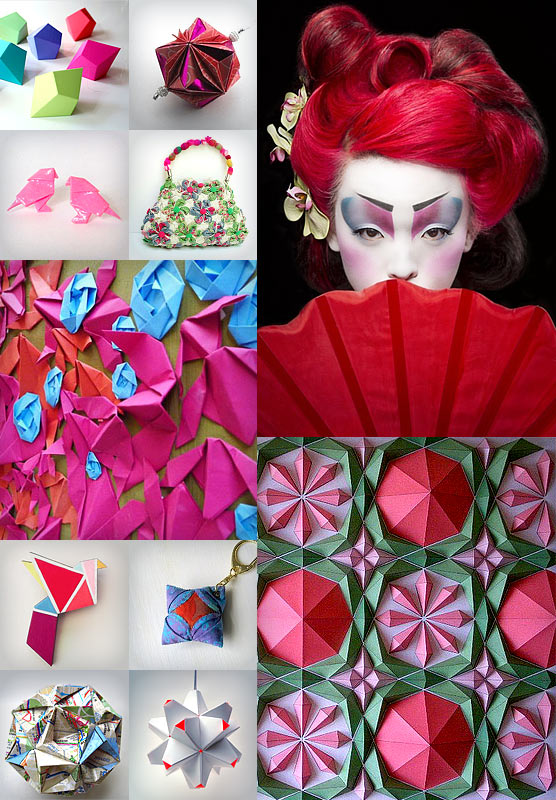 • Mademoiselle Maurice's Origami Installation is a burst of brightly colored origami on a dirty, worn down street in Hong Kong. The rainbow star formation is meant as a message of independence to passerby.
• Kota Hiratsuka's Mosaic Flowers are slick geometric compositions of folded paper that appear to change shape from different angles and light sources.
• Darbie Nowatka's Paper Ornaments is a set of eight templates in fluorescent colors and comes with folding instructions.
• Tessa Kendrick's Origami Ornament is an intricately folded ball of metallic pink and fuchsia papers.
• Sarah Goodell's Earrings are tiny birds folded from bubblegum pink paper and dipped in a shiny finish.
• Esther and Estella's Orinuno Bag is a delightful collage of folded flowers made from recycled fabrics.
• Becky Kemp's Brooch forms a bird from laser cut Baltic birch painted in origami-like sections of color.
• Birgitte Hendricks' Keyring is a cushion made from turquoise and red Bali Batik fabric.
• Suanne's Origami Ornament is folded from an outdated Queens bus map and glossed for durability.
• Katie Callahan's Lamp is part of her Polyhedra Luminaria series of lighting objects folded like traditional origami. The warm orange glow emits triangles of light from the small openings at each corner.