It's probably not worth mentioning. I know how busy your evenings are during the holiday season. But if, one day, you find yourself without a planned engagement, by choice or circumstance, come with me. We'll wander through the perfumed labyrinths of Persian gardens. I have to warn you, though. There's trouble in paradise.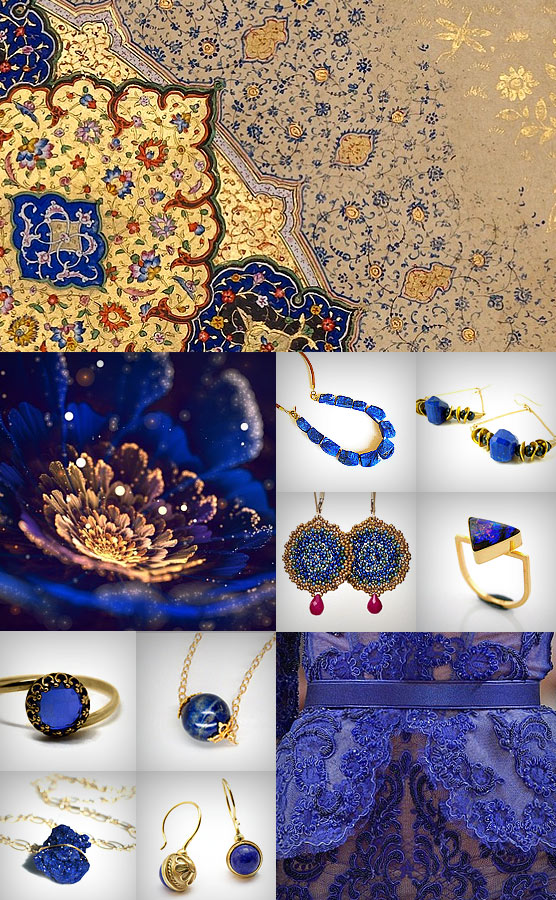 Rosette ca.1550; Fractal Florals; Zuhair Murad
Handmade items to buy: (clockwise) Necklace by Rutha; Earrings by Maria Tina Carter; Ring by Sasa Blackoff; Earrings by Liz Kaprow; Ring by Fifth Heaven; Necklace by Simone Bijoux; Earrings by Cadi; Necklace by Puryst
Cypress, willow, and poplar are too busy vying with each other for a taste of the stars to notice us at their feet, walking towards the stone wall that surpasses their efforts. Zephyr greets us at the gate with a goblet of dewey wine – no, thanks, not for me, but you go ahead – and breezes past, leaving the traces of Eros on our pale, still-fresh skin. Look, there's narcissus dipping his sickly yellow limbs in that turquoise-tiled basin. Be wary of his easy, inviting eyes. I indulged his convoluted monologues for too long last time and he drained me with his bloodthirsty languidity. But what can one do with a tyrant who appears so oppressed by his own self-absorption. Besides, how can one remain concealed in the corner of good health while he's telling you secrets of intoxication, though I don't know what we'd do without clover, always cleaning up spilled words that would leave a lasting stain tomorrow morning.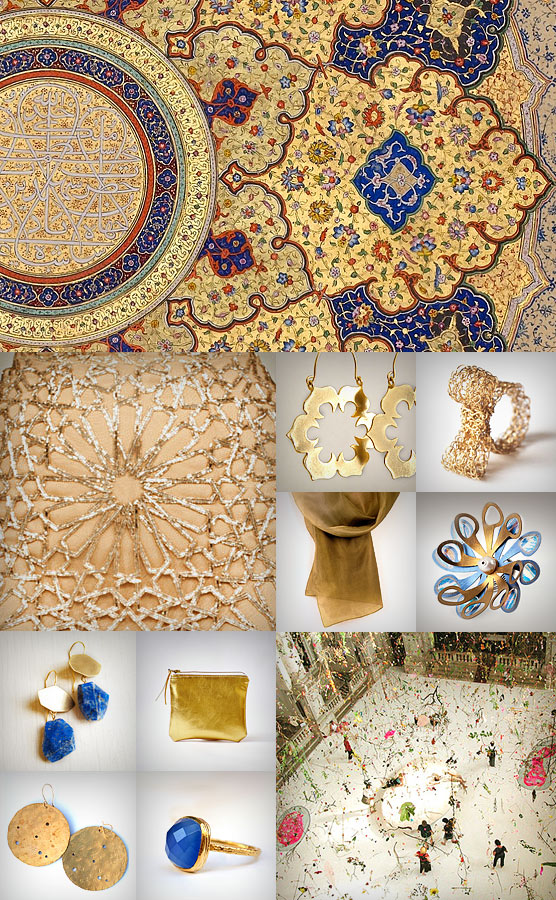 Rosette ca.1550; Zuhair Murad; Falling Garden
Handmade items to buy: (clockwise) Earrings by Ayala Vitkon; Ring by A Bunny And Bear; Ring by Poppy Porter; Scarf by Klara; Earrings by Galit Barak; Purse by Razolly; Ring by Pleiades Romance; Earrings by Alana Little
Steady, now, stick to the limestone channels forging a straight path to the portico that opens up directly from the palace. There, you can already make out the moonlit ringlets of the Zephyr as he wraps around the rose, enthroned. He's not trying to seduce the king, already a deep crimson, but make the hyacinth jealous. It's a sad story, really. Even after escaping Apollo's wrath for delivering the fatal blow to the Spartan prince, who now has his lilac tresses mussed by the dawn breeze, the Zephr burns with desperate desire while doing Eros' bidding. Hyacinth holds him enchained by madness, and, oblivious to his advances, twists his curly locks around the white jasmine. The tulip, the king's companion, sits beside the throne with cheeks washed in passion's blood. She measures out wine and offers it, in vain, to the violet, bowing her head until it darkens to black and blue. Let me take that from you, tulip. Here, take one last sip so we can leave before the nightingale dampens the mood with its longing song.
note: the imagery and phrasing is partly based on ancient Persian poems, which you can find in this book.