On the glassy surface of the water float lilies, those extraordinary aquatic plants whose large leaves spread wide and whose exotic blossoms are curiously unsettling.
– Maurice Guillemot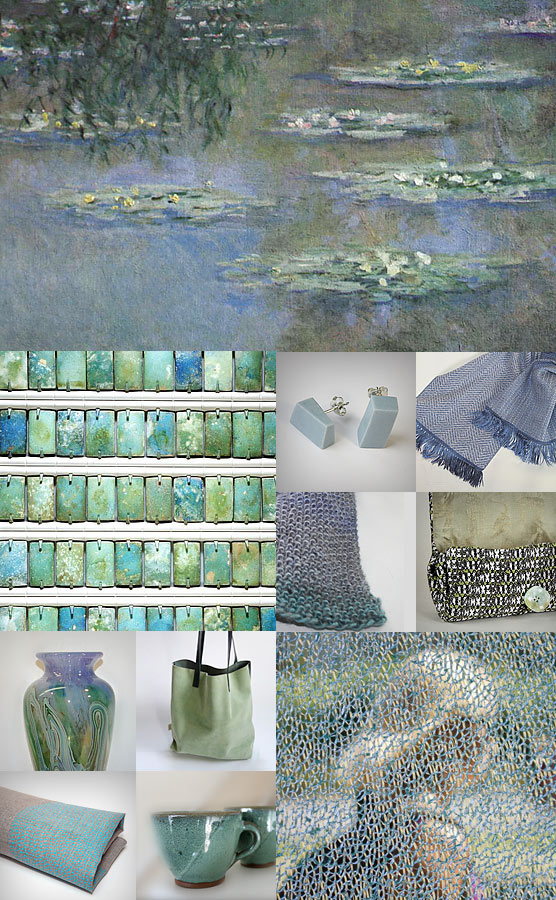 Claude Monet, Water Lilies, 1903; Faience Wall Tiles; Fractured Blond by Ken Holden, 2008
Handmade items to buy: Studs by Juliane Blank; Scarf by Hartig Originals; Scarf by Kitten Whiskers Knits; Monet Bag by Marilynn; Vase by Art Seymour; Tote by Marieke Jacobs; Napkin by Rasa; Mug by Becca Grogan
When Maurice Guillemot came to visit Monet's home in Giverny in August 1897, he spent the morning in his floating studio on the Seine and the afternoon relaxing near the water lily pond. His remark that the "colors are fluid, with marvelous nuances, ephemeral as a dream" articulates Monet's interest in painting the same landscape elements multiple times. His brushwork floated between the tangible and evanescent, the morning mist or play of light that seems too fleeting to be real. In a broader context, his work floats between the Impressionist occupation with the observable landscape and the move towards abstraction.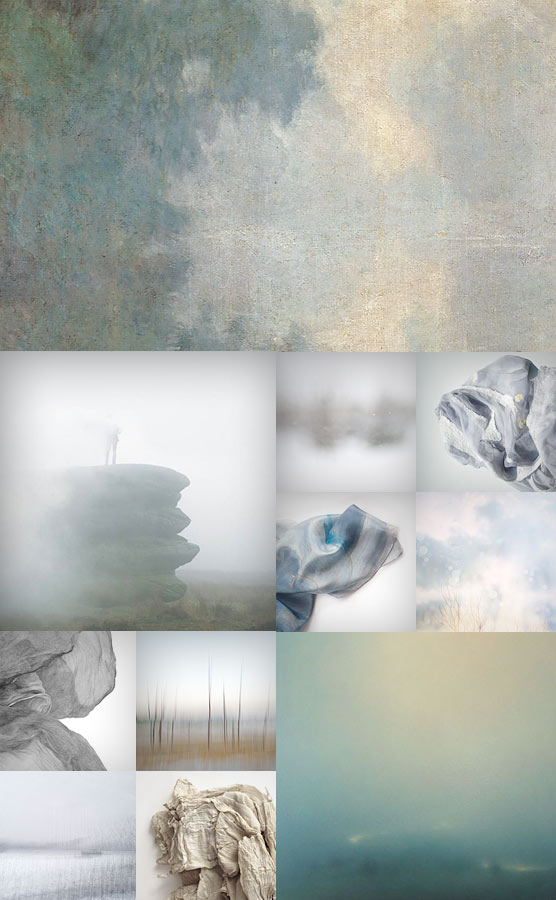 Claude Monet, Morning on the Seine, Giverny, 1897; Eventide by Michael Abrams; Obstructed View (Boulderstone) by Axel Antas;
Handmade items to buy: Wide Open Spaces by Tara Sinclair; Nunofelt Scarf by Pure Silk; Scarf by Klara; Back to You by Blue Algae; Scarf by Ksavera; Ghosts of Yellowstone by Victor; Landscape by Amy Theiss Giese; Scarf by Ayelet Iontef
Guillemot's comment on the mutability of Monet's world is, oddly enough, fitting for these faience wall tiles that date back to the third millennium B.C. What could be more different than morning mist and material kept in a pyramid for thousands of years? And yet the tiles could be little snapshots of Monet's paintings. Both have a nuanced surface of green, blue, and specks of white. Faience was made by applying glazes to crushed quartz, a complex process of layering much like Monet's own brushwork. The funerary apartments these tiles inhabited lay between this world and the afterlife – a bridge, so to speak.