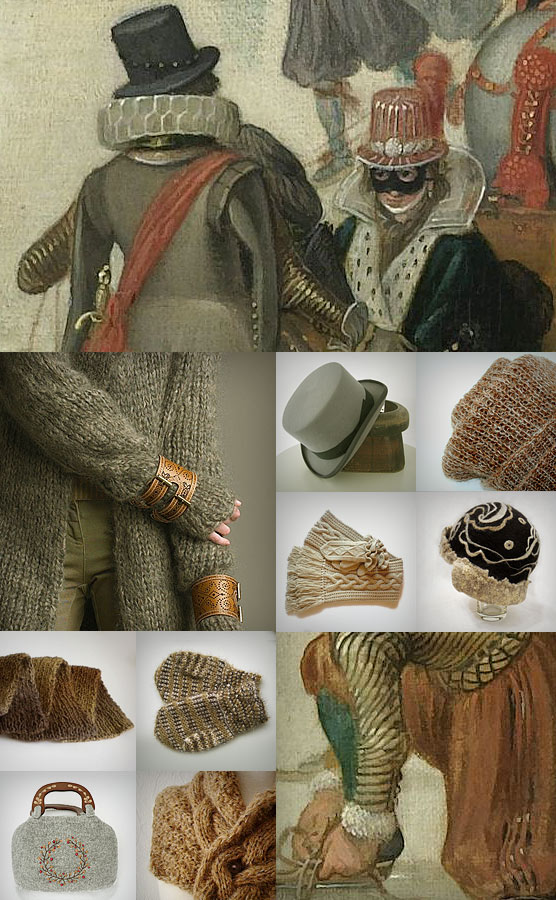 Enjoying the Ice near a Town by Hendrick Avercamp, c. 1620; Knitwear by Alexander McQueen
Handmade items to buy: (clockwise) Hat by D'Aquino; Hat by Irina Sadykova; Scarf by Pille; Scarf by Tweedy Crab; Mittens by Unlimited Craftworks; Scarf by Laima; Bag by Muffin Top Knits
Above the smooth, opaque surface of the frozen lake, thin blades of steel bisect shadows of human and horse flesh, wrapped in fabrics that dissolve into abstract patterns on ice. I pull the carpet closer, careful not to let the curtain tassels touch the ground. The horse takes a sharp turn, sending sparks of ice into the dark, fluid depths of a hole cut ten centimeters deep and twenty wide. They fish and we race. Pale yellow light gives the man's green coat a sickly tint. He rests the tip of his axe, eyes piercing through my emerald fur, white leopard collar, and embroidered gloves, with the look of a man appraising fresh caught sea bass. The hat amuses him. Stripes of silver and ivory florals sit on a rose canvas just a touch dustier than the horse's feathered plume. The stiff sugar cake slips sideways on my head and I want his floppy, damp cap. Darts of chill air infiltrate the sides of my nose, half-covered by the black satin mask that hides my embarrassed cheeks. I blush easily, even in the cold.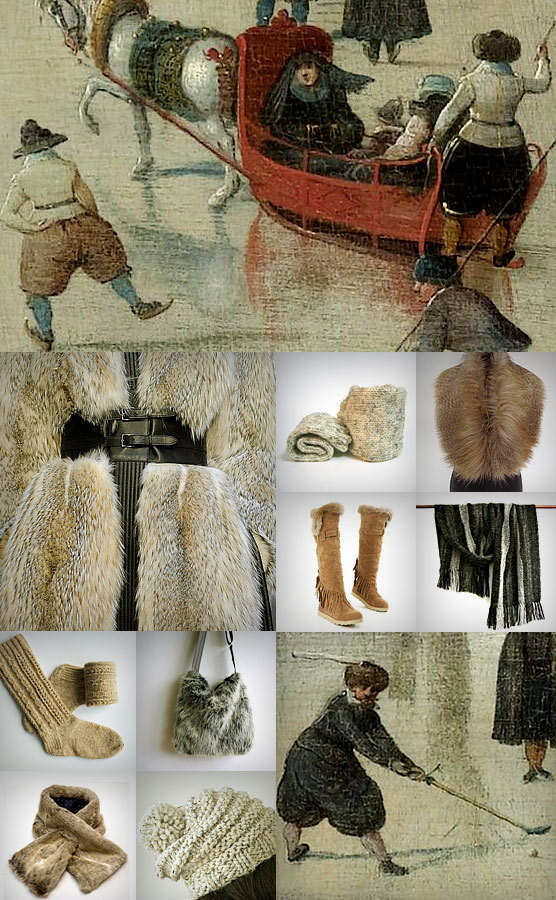 Enjoying the Ice near a Town by Hendrick Avercamp, c. 1620; Coat by Hermes
Handmade items to buy: (clockwise) Arm Warmers by Tombo Designs; Fur Collar by The Purple Genie; Scarf by Penelope Now; Boots by Sarrah Lady Langley; Wool Socks by Rima and Genute; Tote by Ruthy; Hat by Pika Pika; Scarf by Coco Brown
The smell of starched linen lingers after the skater rushes past, through a gaggle of idle ladies, sidestepping one gentleman aligning his undergarments with no attempt at stealth, and into a pocket of clear ice. One hand behind his back, opposite leg lifted in the air, the skater creates a long shadow that mingles with streaks of red. She's watching me, he thinks. Her grey veil floats alongside flushed cheeks I'm used to seeing set in finer frames. A young widow, perhaps, eager to outpace the horse struggling against its heavy gold harness. I watch my own breath fade and reappear, more rapidly now, as I escape her gaze and lean into my stride.