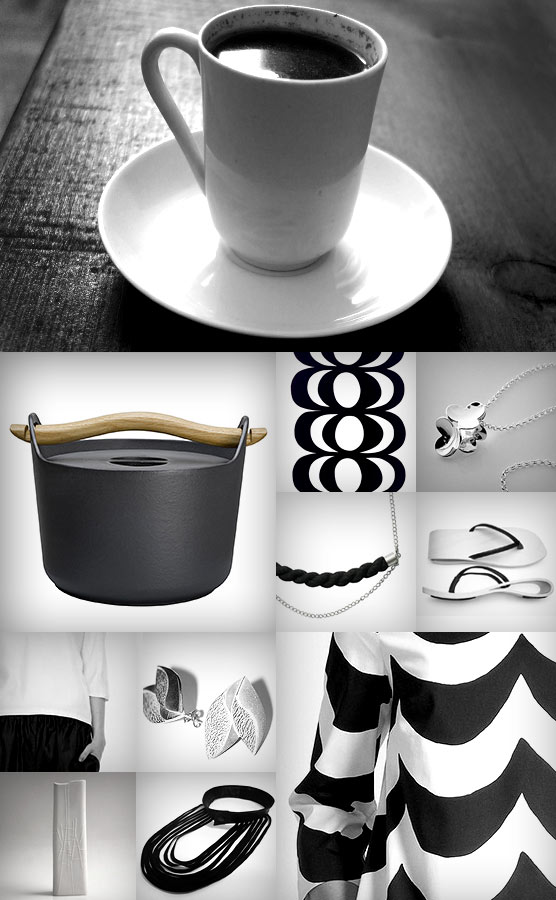 The cup in question; Sarpaneva Casserole by Iittala; Kuohu Dress by Marimekko; Kaivo Fabric by Maija Isola; Wave Kaisla Sandal; Shirt by Camilla Mikama; Arabia Vase from 1001 Vintage
Handmade items to buy: Ilona Necklace by Lina Simons; Necklace by Nouseva Myrsky; Fig Earrings by Anna's Darling; Leather Necklace by Exleather
Though I'm partial to an espresso on the counter of a cafe in Rome, I reach for the Arabia cup when it's just me and a French press. It's got a web of cracks on the inside becoming more visible with each refill of coffee. Perhaps it was pristine in the '50s, but it's lived through many kitchens since then.
If coffee cups could talk, this one would be softspoken. The slim, slightly concave form with a handle that hugs the body as closely as possible suggests restraint, a tendency to think before talking and only when necessary. The Italian espresso cup, on the other hand, curves outwards and seems capable of striking up a conversation with a stranger in the morning.
Not so with the Arabia cup. It's Finnish, after all. But get to know it well enough and you'll discover all sorts of interesting quirks. The cracks and cinnamon that settles along the outside rim only reveal themselves after you get past the sleek surface.
There's something delicate, almost plant-like about this cup. It's not solid and low to the ground but seems to extend upwards in perpetual movement.