Out with cheap truths.
Erase the old from hearts.
Streets are our brushes,
Squares are our palettes.
– Vladimir Mayakovsky
When For the Voice arrived at a print shop in Germany, the typesetter could not understand a single word of its revolutionary ideas. The slim volume contained the poetry of Vladimir Mayakovsky, a man with a stare so intense it made him look more like a hit man than a poet. What the printers could appreciate right away were the designs of El Lissitzky: bold, geometric forms borrowed from his teacher, Kazimir Malevich. But while Malevich was interested in the "dynamic condition of forms," Lissitzky put them to task for a political purpose. For the Voice was meant for dramatic public readings, not quiet bookstores.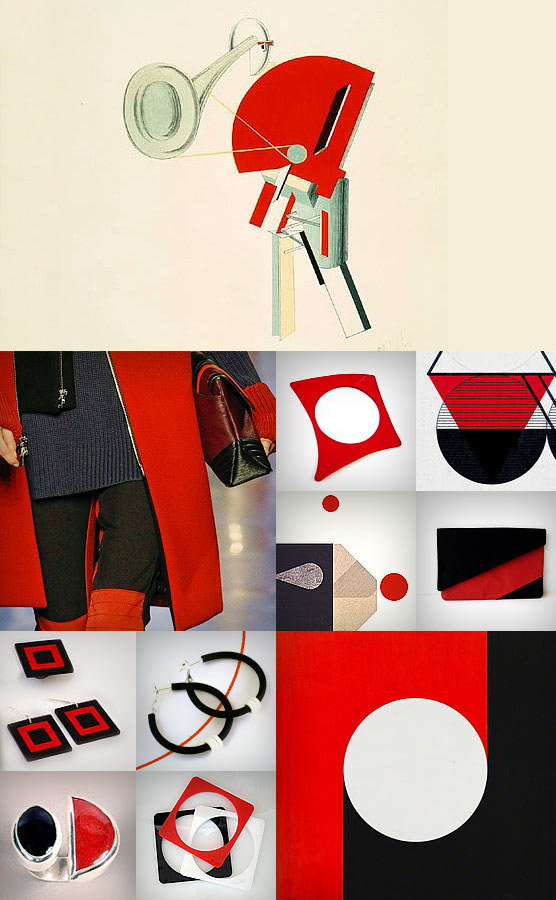 El Lissitzky, The Announcer, 1923; Etro Fall 2013; Alexander Liberman, Untitled, 1961
Handmade items to buy (clockwise): Bracelet by Sotiria Vasileiou; 24 Circles by Edu Barba; Composition with a Singing Dove by Jesus Perea; Clutch by Narya Bags; Earrings and Ring Set by MBG; Earrings by Frank Ideas; Ring by Silver Sleek Studio; Bangle Set by Gili Lasri
Lissitzky saw himself as an architect, not an illustrator. He was constructing designs entirely from a letterpress printer's typecase, building meaning with geometric components. The forms visualized the poetry by incorporating Cyrillic letters and Soviet symbols. But the most interesting parts of the project are its failures and inconsistencies. The German printers couldn't read the words but the designs were intriguing enough on their own. The visual kernel of Lissitzky's work – not its political purpose – lived on in Bauhaus, De Stijl, and contemporary graphic design.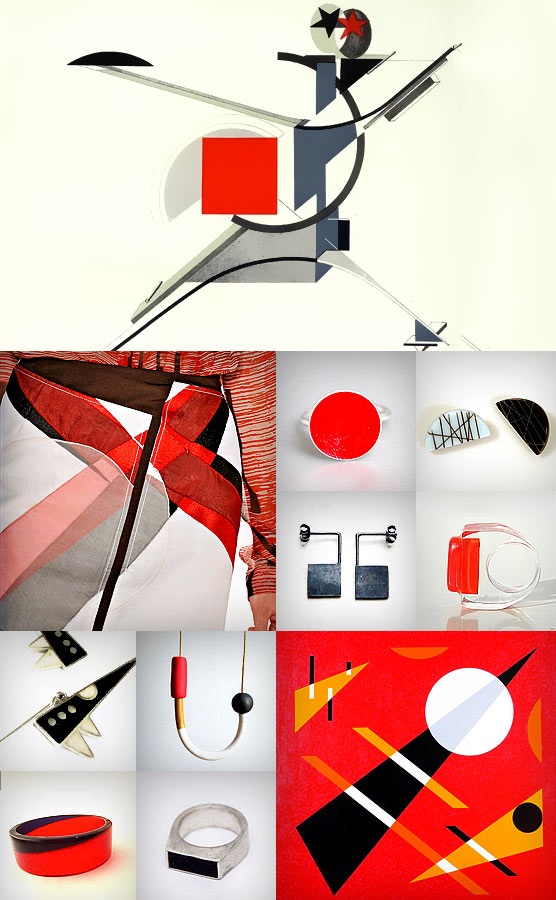 El Lissitzky, The New Man, 1923; Jaro, White Accent, 2013; Carolina Herrera Spring 2012
Handmade items to buy (clockwise): Ring by Kostas; Earrings by Tiki; Earrings by AgJc; Resin Ring by Soulful Style; Earrings by Maldonado Joyas; Necklace by Floti; Bangle by Topaz Turtle; Ring by Guadalupe Ferreyra
In one of his poems, Mayakovsky anticipates the fate of his words: " Let fame trudge after genius like an inconsolable widow to a funeral march – die then, my verse, die like a common soldier." The political power of his poetry died with the times, but he never sought 'fame' and 'genius' anyway. Those were associated with tradition, a sticky mess he thought had no value. But as much as he and Lissitsky sought to run away from tradition and timelessness, they kept running into them. Take Lissitzky's New Man. He was composed of the very stuff of revolution and prepared to leave old ideas behind. And yet, it's the Vitruvian Man all over again.