We were inspired by an old pawn ticket to collect more work that embraced collage and mixed media.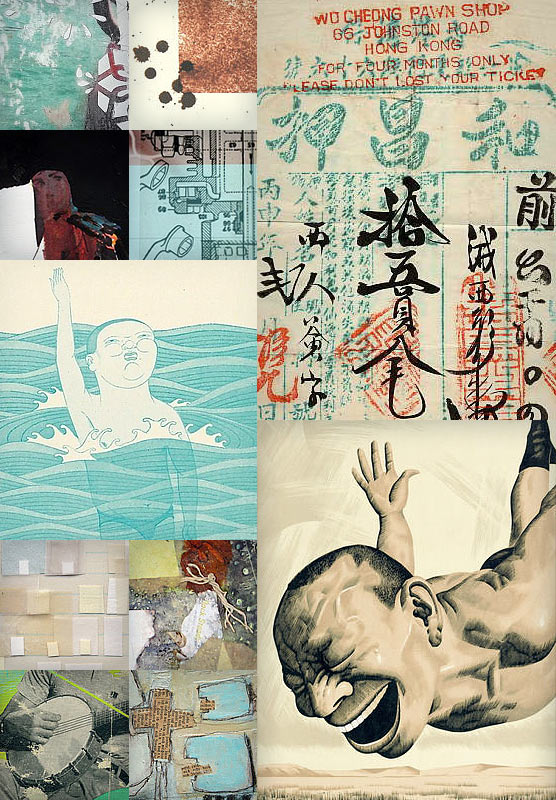 • This Pawn Ticket from the Wo Cheong Pawn Shop in Hong Kong tells its history with layers of faded calligraphy and stamps.
• Yue Minjun's Diving Figure from his Grassland series of woodcuts features the wide, exaggerated smile that appears in many of his works. Here, he was inspired by the open expanses of Mongolia.
• Wilson Shieh's Swimmer is an etching with fine lines that echo the gongbi style of Ming dynasty painting.
• Elise Wehle's Deer Wading Through a River is a photograph transferred onto watercolor paper and sprinkled with paper pieces that give it the quality of dappled light.
• Lewis Folden's Four Squares is a collage of metallic papers, paint, and pencils.
• Theresa Pfarr's Untitled mixes paint, charcoal, graphite, and ink to depict a mysterious female figure.
• Janelle Lile's Distant is a digital collage of diagrams and translucent layers in a blue palette.
• Catalina Viejo's Letter to my Dreams is a collection of private thoughts, expressed in shape and color, addressed to specific people.
• Stephanie Holznecht's Seashells has tiny shells set into torn papers, paint, and pieces of string.
• Bill Zindel's Make Your Own Banjo combines vintage images and neon paint reminds you to stand out from the crowd.
• Kate Schlueter's Each of Us is an Original III features thick layers of paint, printed paper, and other materials.