(Her voice) was full of money – that was the inexhaustible charm that rose and fell in it, the jingle of it, the cymbals' song of it…High in a white palace the king's daughter, the golden girl…
– F.Scott Fitzgerald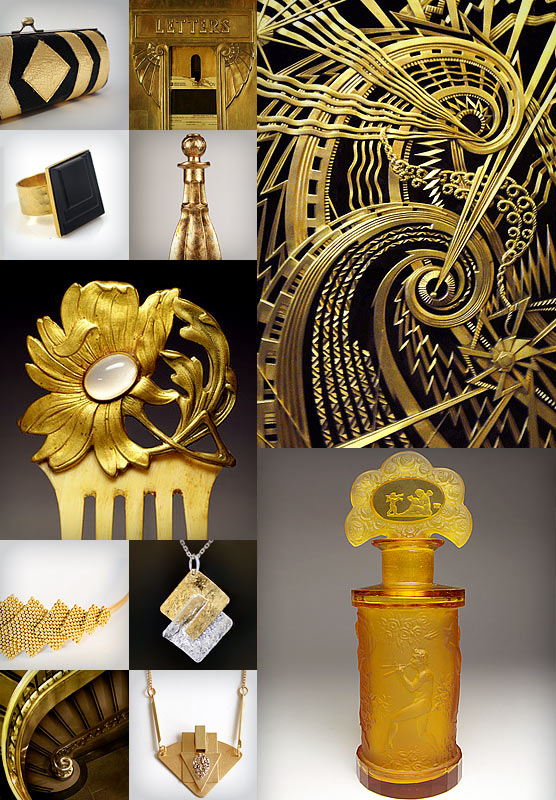 • The Gilt Bronze Gates inside the Chanin Building embody the Gatsby spirit. Completed in 1929 by Irwin Chanin, the skyscraper is one of the finest examples of French-inspired Art Deco. Irwin, like Gatby, was a rags to riches story, and his designs reflect the dynamism and elegant ruthlessness required to rise to the top. Gatsby is a dominant figure with "the appearance of always leaning aggressively forward," and an unconscious distaste for restraint. The decorative gears of Irwin's work confront visitors with industry, prosperity, evolution, and the glory of money, just as Gatsby's great house signals his success.
• This French Comb has the curved, flowery forms of Art Nouveau that would become more streamlined in the following decade. Chanin's inspiration for his work came from a visit to the 1925 Exposition in Paris. He was more interested in pursuing the graphic potential of organic shapes.
• This Perfume Bottle is one of many such extravagant examples designed by Heinrich Hoffman in the '20s and '30s. They were imported from Czechoslovakia in the 1920s by Hollywood to be used in movie sets. The 1939 film The Woman featured one of these bottles as Joan Crawford played a perfume counter assistant.
• Bonne Amie Boutique's Clutch screams Deco decadence with a gold and black diamond design.
• Caroline Beard's photographs of a Mail Slot and Spiral Staircase capture the classic Deco style of the Rand Tower in downtown Minneapolis.
• Tasha Hussey's Ring sets a black square, made from vintage glass, in a a hammered gold band.
• Duane Vickers' Vintage Liquor Bottle has a variegated gold leaf glow that would fit right into one of Gatsby's great parties.
• Anne-Marie Jones' Headband is the perfect flapper accessory with layers of tiny gold beads.
• Joseph Sanchez' Necklace suspends two interlocking squares in gold and sterling silver.
• Jessica C.'s Necklace is made from vintage brass parts arranged in an Art Deco style composition and accented with a sparkling agate druzy cabochon.