ar·a·besque
Fine Arts. a sinuous, spiraling, undulating, or serpentine line or linear motif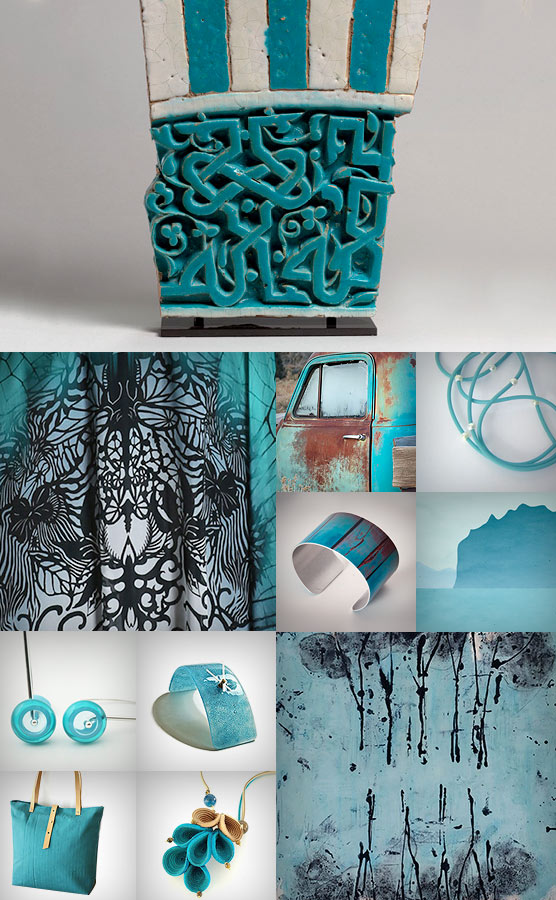 Timurid Tile, late 14th century; Print by Zuhair Murad; Reflection in Cobalt Teal by Shira Toren
Handmade items to buy (clockwise): Pickup Truck Print by Chey Anne Sexton; Necklace by Frank Ideas; Landscape Print Set by Eve Sand; Cuff by Soul Azul; Earrings by Kristin Perkins; Desk Clock by Sea Lamb Glass; Necklace by Niknaz; Tote by Mery Bradley
1) The curved head of the streetlamp watches its stiff body sprout into the laughter of two girls, who tie a threadbare rope around its waist and take turns pushing off the curb. Suspended in a loop of their own making, they catch last drops of daylight before the lamp begins its fatal beat, accompanying the rhapsodies of insomniacs.
2) A flock of starlings ripples in continuous transformation, each pair of wings adjusting to the tilt and direction of its seven nearest neighbors.
3) I open the back door and just as I'm about to follow the staircase, a spiral folded neatly beside a cobbled street curved in the same direction, a man on a bicycle pedals past the last turn, which leads down into the wine cellar. Maybe today I won't go down to retrieve a bottle.
4) Artemis begins the thought, which travels down marble flesh relaxed in contrapposto and twists with crossed legs, leaping from her bare ankle to the loafered toe of a guard, off duty, resting his foot on her pedestal and finishing the thought on the margins of a discarded brochure.
5) I wait in line for the water fountain in Central Park, avoiding eye contact with the caricaturists eager to poach their next victim, when my well-rehearsed "no, thank you" encounters a question ill-suited to its brevity: "what's your favorite way to get through the park?"