Pie has a long history and it has other implications: the idea of 'Pie in the Sky', the old American preoccupation with Mom and Apple Pie, pie throwing contests, pie eating contests, pie throwing in Chaplin films. One makes a pie out of ordinary stuff, like raisins, squash or apples and gift wraps it, in a sense, with crust. It's very magical, very special.
– W. Thiebaud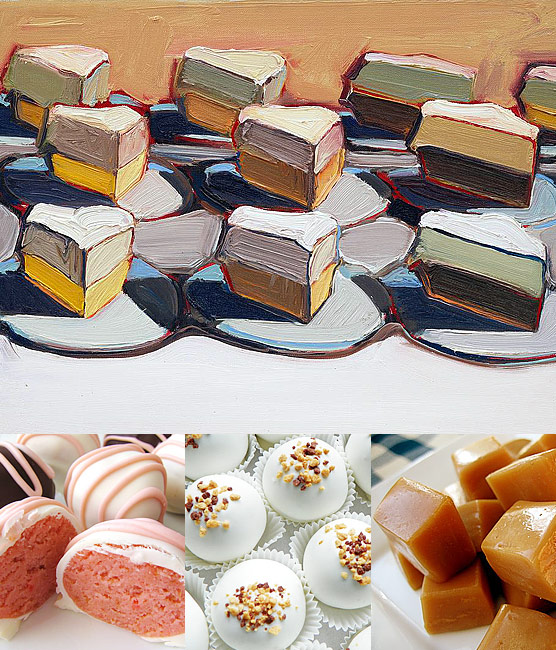 • Wayne Thiebaud's Cut Meringues (1961) look more delicious than the real thing. His work appears realistic at first glance, but compare a slice of meringue with this painting and you will see the difference between the two. The pies are familiar and alien simultaneously. The brushstrokes exaggerate the texture of meringue, making us wish we could lick the paint off the surface. And yet the slices remain inaccessible by appearing as ideas of what pie looks like.
• Natalie and Samantha Schapiro's Strawberry Cake Balls come in dark chocolate, white chocolate or pink vanilla flavors.
• Cristy's Salted Caramel Cake Truffles have a moist filling covered in white chocolate and sprinkled with turtle crunch.
• Angela and Kay's Butter Caramels combine Lebanese flavor with Brittany style. Rose, orange blossom, and vanilla flavors add to a salty cream base.