We hate using umbrellas for practical purposes, like rain or sun protection. Why not explore these other, more useless, options?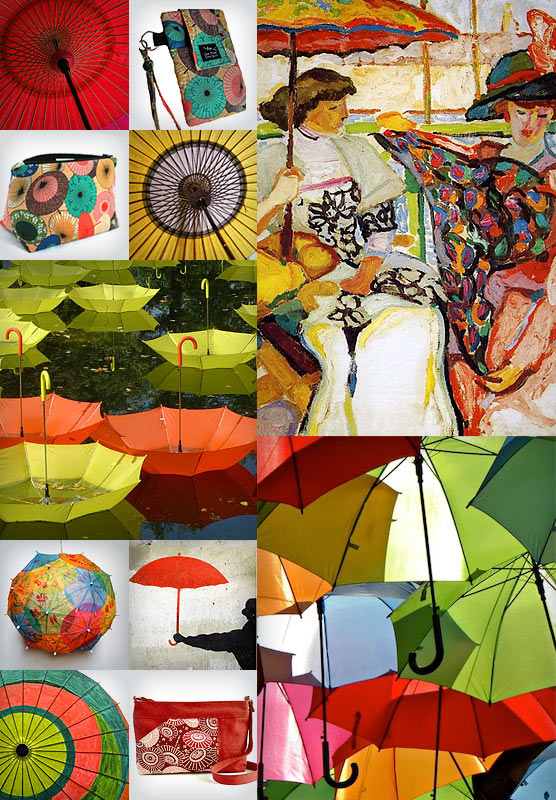 • Alfred Lombard's Marthe et Pauline à la Terrasse looks like a rainbow of colorful popsicles melting under the summer heat. The brushstrokes give the impression of looking through a haze and seeing the patterns of their clothing loosen up under the golden sunlight. These women are made of color, not flesh. Why isn't Lombard more well-known? Marthe and Pauline are the worthy sisters of Matisse's Woman with a Hat. Lombard exhibited this work in 1910, five years after the Fauves had caused their scandal. He must have seen that exhibition; look at how Pauline's hat approaches abstraction just as Madame Matisse's? Cubism was the new rage in 1910, and Lombard may have just missed the boat.
• In the Portuguese town of Agueda, Umbrella Sky was a Marry Poppins dream come true. The colorful umbrellas caught the sun in mid-air, floating above a street like a canopy of stained glass.
• Luke Jerram's Just Sometimes floated one thousand umbrellas upside down in the waterways of Rotterdam. I wouldn't be surprised if someone started spontaneously whistling the tune of Singin' in the Rain.
• Takekasa has a wide array of exquisite parasols. Her Red Parasol has silk strings wrapped around the bamboo spokes. Her Yellow Parasol has a golden center and stripes of brown, peach, and pale blue along the outer edge.
• This iPhone Case by Sew Posh Designs is padded with a pattern of colorful parasols.
• Jordani Sarreal's Travel Pouch keeps all of your essentials together for, perhaps, a trip to Japan.
• Allison Patrick's Pendant Light is made from interlocking cocktail umbrellas that create a watercolor glow.
• Nichole's Paris Graffiti prints capture corners of the city hiding bits of wit and whimsy.
• Claudia's Parasol is hand painted with pink, green, and orange swirls, allowing the brushwork to show through. It would fit perfectly in Lombard's painting.
• Marabara's Bag is made of deep red canvas with a graphic pattern of white parasols.