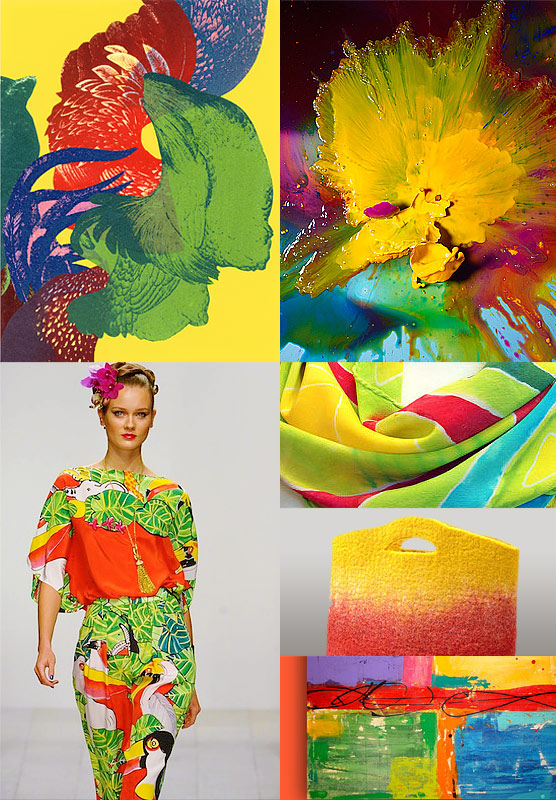 • Dana McClure's Curiosities Series explores how natural forms – bird's wings, leaves, coral – become abstracted through collage and screenprinting. She cuts, layers, and plays with different transparencies and compositions. Each print offers unexpected and unique combinations of vibrant colors.
• Photographer Thomas Brown and lighting designers Lightning + Kinglyface tested the beauty of imperfect circles in the series 2-(y-b)2 = r2, the equation for a circle. Pictured here are a splash of paint and milk with paint swirling on the surface.
• The Issa Spring 2013 Collection is a tropical feast of green, fuschia, and bright red in long, flowing silhouettes.
• Tobey's Silk Scarf is a hand painted pop of color that would brighten up a little black dress perfectly.
• Rasa's Handbag on Fire complements the red-orange and yellow landscape of autumn.
• Ora's Fiesta features blocks of colorful, textured paint with a ribbon of jet black running through the middle.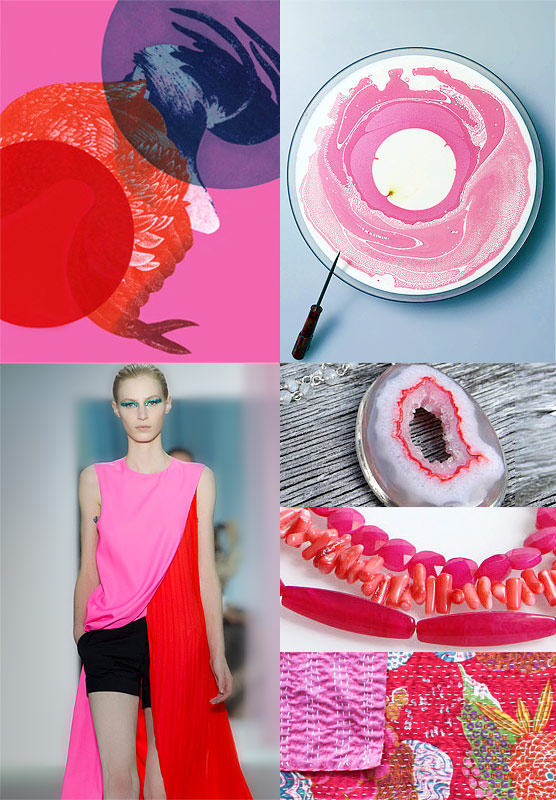 • The Christian Dior Spring 2013 Collection included several pieces that draped bright, asymmetric dresses over a pair of black shorts.
• Jax created this Druzy Necklace by framing a pink and violet slice of druzy agate in sterling silver.
• Kristin's Coral Necklace combines fuschia quartz and salmon pink coral in three striking strands.
• Rose's Queen Bed Cover is hand stitched with a Japanese-inspired floral motif on one side and solid hot pink on the other.