Snapshot Stories is a series of short vignettes based on old photographs. This installment features Meudon, taken in 1928 by André Kertész. Meudon is located about six miles from the center of Paris.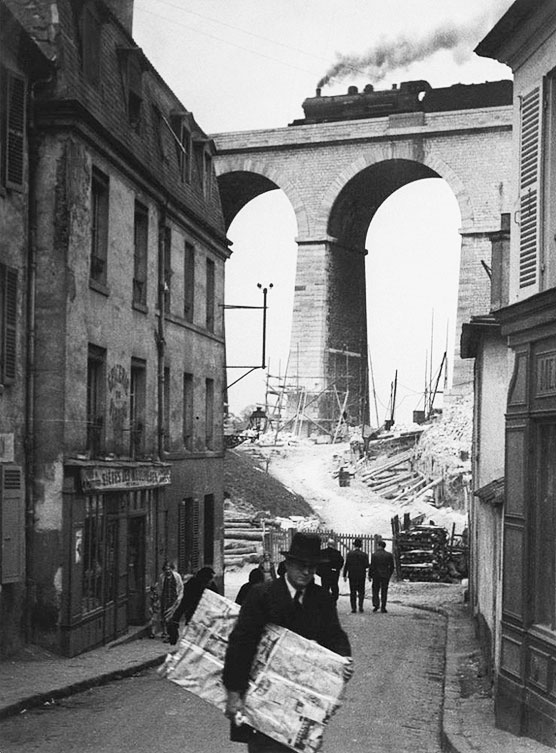 12:00:00
Three men enter from right. All wearing suits. All walking side-by-side down the street. Sound of train approaching. Two women turn the corner on far left and stop, looking at the viaduct. 
12:00:05
One of the women turns and starts going up the hill on the sidewalk. Front of train appears from right.
The train sounds its passing but doesn't take me, away from these half-empty streets and ruins. They told me it was for the better, for the good of the whole neighborhood to sacrifice our outdated homes for new buildings. What if, God forbid, a Parisian strolls into our maze of winding streets and can't find the nearest shop? I want to take that man's hat and burn it like he burned my home, but the train is passing and I don't want to disturb its orderly progress.
12:00:10
Man enters from close left wearing suit, hat, and glasses. He is holding a large, rectangular parcel wrapped in newspaper.
I have at last detached myself from the soot and dust of this sleepy suburb. Paris waits for me to fill this frame, or, rather, the four pieces of wood I took from the yard. Those passing men will think I am carrying an important painting. I'm just like them, wearing a respectable suit. The city won't mind my plunder. Look, it's already in a state of dismemberment.
12:00:13
The man lines up with the train and stands directly between the three men and the woman. This street in Meudon converges on a crossroads.