Have you ever wondered about the stories behind old photographs? Snapshot Stories is a series of short, fictional narratives prompted by that curiosity. This installment features this photograph by Walker Evans.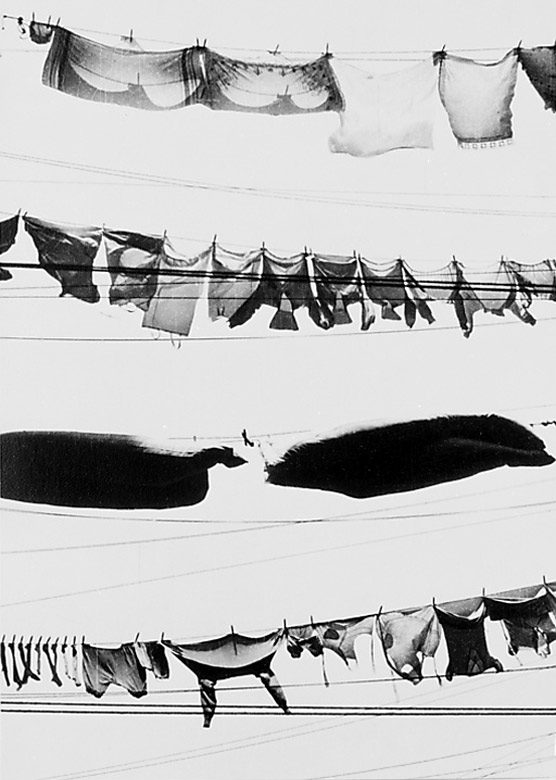 August 23, 1938
It's laundry day and I've just finished putting everything on the line. I really believe I've got the best view in town right now. The sun pierces through sheets and shirts, flying high and triumphant like trapeze artists above grimy streets.
Looking above, I could be anywhere, even back in the south, and I could look down to terraces and courtyards full of lemonade and conversation. No one has time or space for that here. Except Frida. She will back back later to pick up her sheets, and I will get to her the next installment of her adventures with that rich family she works for.
Leopold should be back when the sun shines a little less harshly through his wife's towels. She prepares the food each morning – frankfurters, sauerkraut, onions, pies – and he sets out on his little pushcart until it's all gone. When he gave me some of his apple pie last week I noticed that the wrappers have little notes barely readable through the crumbs, grease, and his own scribbled writing. He says they're poems to keep him busy between breakfast and lunch. Sometimes I wonder if he's better off than Frida, who doesn't get a moment's rest cleaning and ironing delicates and making sure there's not a speck of dust in sight.
The shirts belong to a mysterious man who just moved into the building. His southern drawl and charming way of saying "Miss" made me like him instantly. That's all I can say about him for the moment.