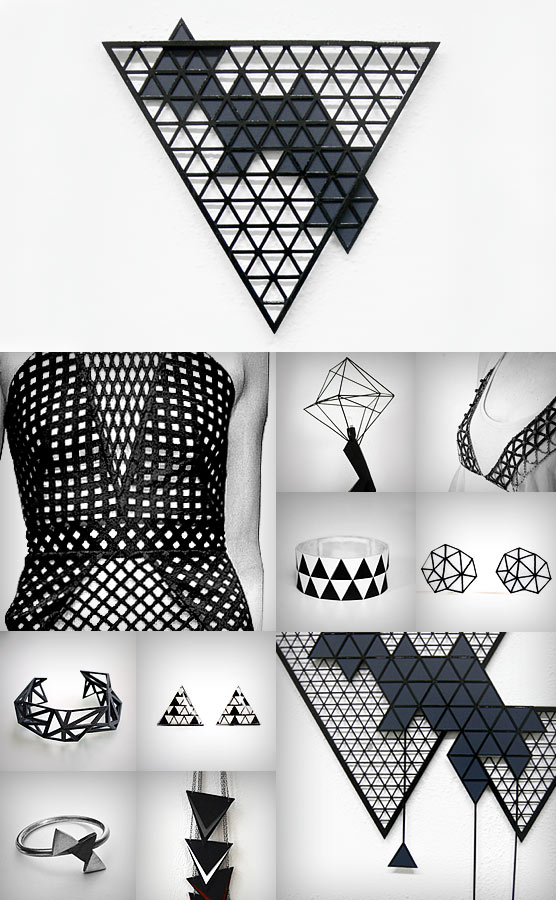 Reconnect the Stars, Every Single One by Sandra Fettingis, 2013; Dress by Marios Schwab
Handmade items to buy (clockwise): Lampshade by Manos Mpatzolis; Body harness jewelry by This Ilk; Studs by AMCL; Bracelet by Brick and Arrow; Bracelet by Archetype Z; Studs by Anne-Louise; Necklace by Salmiak Studio; Ring by Mariana Galan
1. The mirror fragments my body, reflected in the ceiling, as I lie on the polished parquet floors of the old apartment and watch my limbs multiply, creating patterns from faultlines, conspiring against symmetry.
2. The boy brings fish, dripping with oil absorbed in the sand under our bare feet. He hands it to me, still warm, and I can smell wood smoke with a hint of juniper. City girls deserve something special, he says, and walks away.
3. The neon glow of the restaurant downstairs reaches my bedroom window as I lie awake listening to Tom Jones invoke his Delilah for the eighth time this week.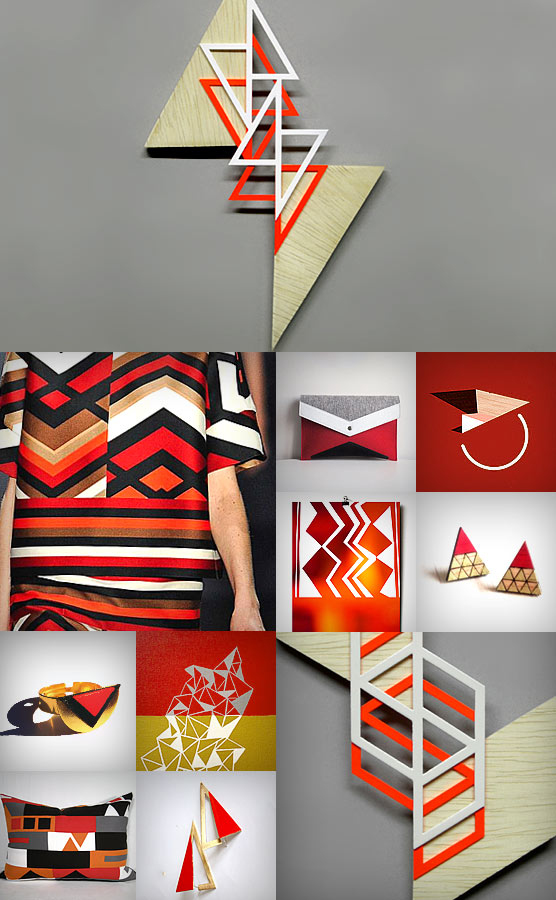 Tell Me When You Hear Me Falling by Sandra Fettingis, 2012; Dress by Giambattista Valli
Handmade items to buy (clockwise): Clutch by Fancy Felt; Abstract Composition XXXI by Jesús Perea; Earrings by Jack Liew; Ring by Fosseth; Print by Villavera; Earrings by Anousheh Barzegar; Pillow Cover by Mazizmuse
4. The monolith of golden, pink, and green candies, kept by the window in a metal Monpansje tin, refuses to yield to my efforts to separate their sugarbodies after she offers them with "Bonbon?" like it's that simple.
5. The sugar crystals melt into the thin crepe, which I roll carefully, dangle my legs in rapture, and ask for another.
6. The white curtains leave just enough room for me to watch her through the glass door, playing the usual sequence of Chopin nocturnes, while her apron, draped across the piano, bears traces of crepe batter, before I get back to the mirror, which fragments my body, reflected in the ceiling.