Dropping dead down the aeroplane soared straight up, curved in a loop, raced, sank, rose, and whatever it did, wherever it went, out fluttered behind it a thick ruffled bar of white smoke which curled and wreathed upon the sky in letters. But what letters? A C was it? an E, then an L? Only for a moment did they lie still; then they moved and melted and were rubbed out up in the sky, and the aeroplane shot further away and again, in a fresh space of sky, began writing a K, an E, a Y perhaps?
– V. Woolf, Mrs. Dalloway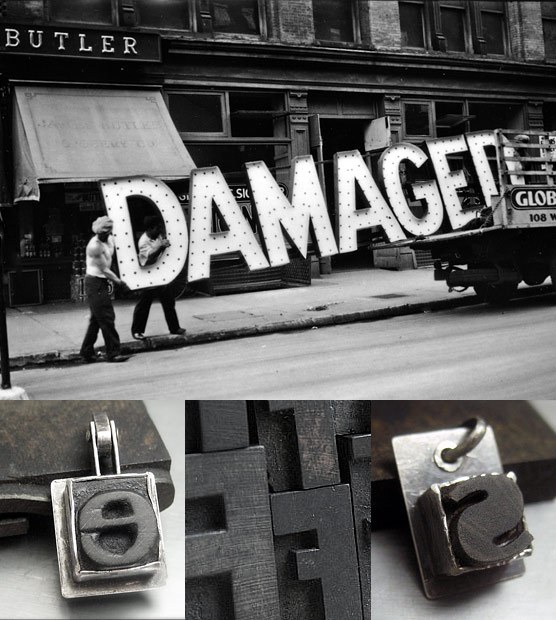 Walker Evans documented the story of America in signs. Billboards, gas stations, announcements, and broadway lights composed the new language of the century. As a man with literary ambitions and eyes full of Modernist Paris, Evans gave the temporary signs of everyday life elegance and timeless appeal. His photographs were not advertisements. He created a subtle yet deliberate contrast between the cheerful, in-your-face nature of advertising and the reality of America during the Depression. The Neon Sign for "New Moon" (1930) appears to suspend the letters as floating, fragmented entities. Damaged (1928) shows how the sign for a theater production was dismantled and shipped off.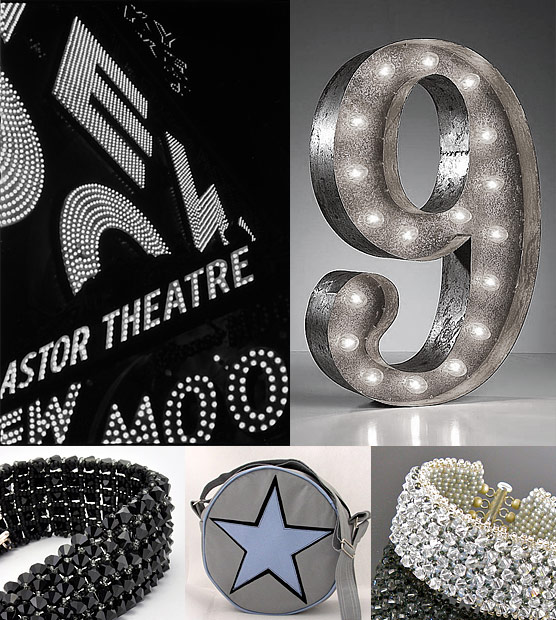 • Letterpress E Pendant by LivelyHood
• A Set of Letters F by CoolVintage
• Letterpress S Pendant by LivelyHood
• Vintage Marquee Lights by Jerrad
• Black Crystal Bracelet Cuff by Kathryn Bowman
• Ramona Flowers Bag by Fá Giandoso
• Crystal Cuff by Diana Carol