But the garden, hemmed and almost squashed between these barriers, was exhaling scents that were cloying, fleshy, and slightly putrid, like the aromatic liquids distilled from the relics of certain saints; the carnations superimposed their pungence on the formal fragrance of roses and the oily emanations of magnolias drooping in corners; and somewhere beneath it all was a faint smell of mint mingling with a nursery whiff of acacia and the jammy one of myrtle; from a grove beyond the wall came an erotic waft of early orange blossom.
– Giuseppe di Lampedusa, The Leopard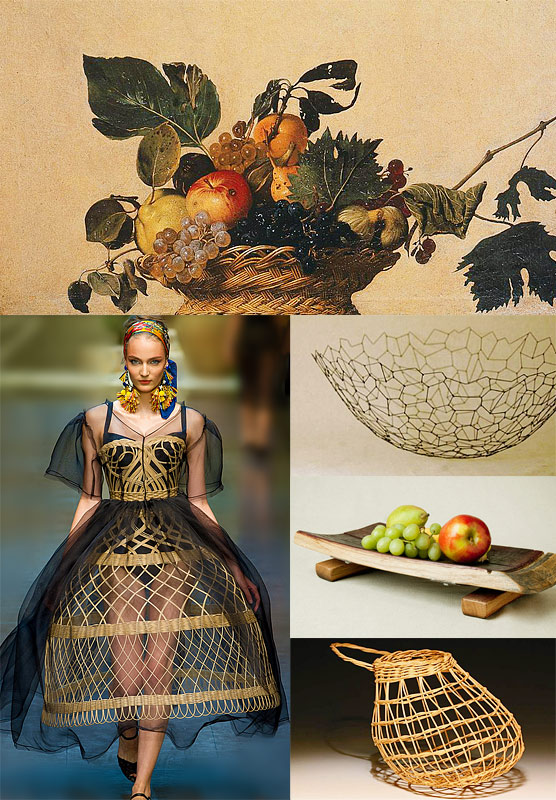 • Caravaggio's Still Life with a Basket of Fruit (1601) embodies the saintly and putrid qualities of the Leopard's garden in Sicily. Insects have eaten into the fruit and the leaves are dry and shriveled. But the golden background gives the composition a saintly glow, as if the decayed fruit was on display as a relic. Today is Caravaggio's 441st birthday.
• The Dolce & Gabbana Spring 2013 Collection played with Sicilian straw and raffia craftsmanship by using the materials as the visible infrastructure of their dresses.
• Masao Seki's Basket is made of wire so thin it looks like a line drawing floating in space.
• Brad's Fruit Platter is section of a wine barrel that cradles your still-life perfectly.
• Billie's Twined Basket is a simple yet timeless way to display your goods.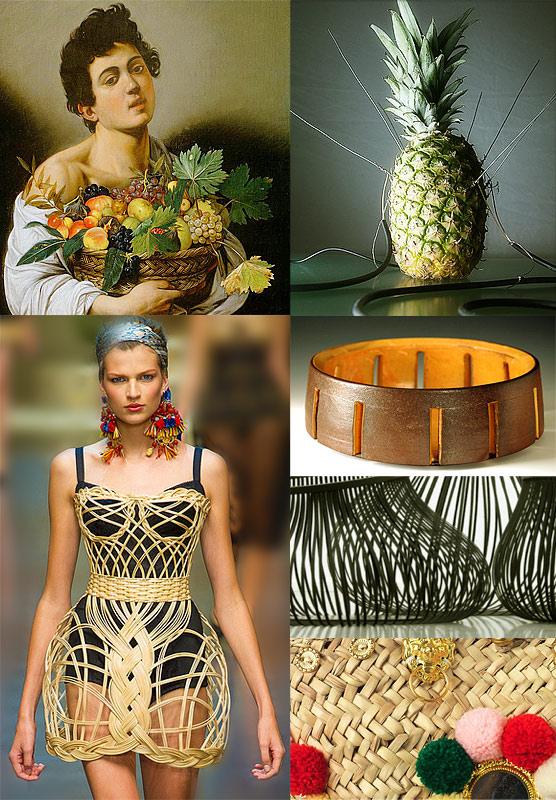 • Caravaggio's Boy with a Basket of Fruit (1593) displays grapes, peaches, apples, cherries, figs, pomegranates, and pears in perfect condition. The leaves that extend over the edge of the basket show signs of decay. Sicilian painter Mario Minniti was the model for the boy, whose eyes and posture melt with overripe languor.
• Listen to the frequencies of fruit in the Natura Morta symphony.
• Julie's Basket has a natural ceramic sheen with a golden yellow inside.
• Laetitia Florin's Bidum Basket is a vibrating container that you can fit a human body into.
• This Sicilian Basket is handcrafted in Sicily from palma nana straw and decorated with colorful pompoms and mirrors.