Before you buy shoes from big brands with not so ethical business practices, consider these alternatives. All the shoes here are hand-made by individuals in unique designs few others will have.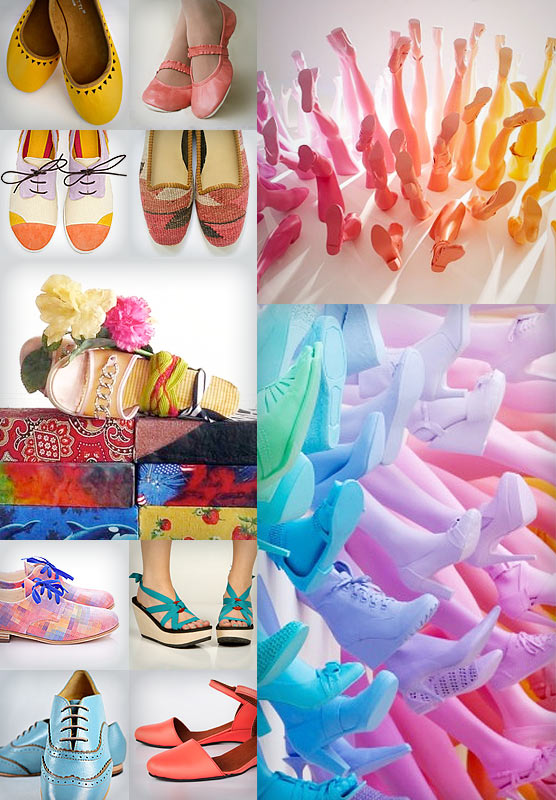 • John Breed's Shoe Salon Breuninger installation is a rainbow gradient of legs sticking out of the wall at various lengths, each with a different type of shoe.
• Shinique Smith's Origins is a tower of bricks wrapped in second-hand clothing, with a pair of sandals perched on top. She turns found objects into three-dimensional collages that distill the moment of discovering discarded treasure.
• Lolliette's Aztec Flats is made of mustard-colored leather with a triangular cut-out design along the edge.
• The Drifter Leather's On Cloud Nine Flats are made of soft leather in a luscious shade of pink.
• Oded Arama's Lace Up Sneakers are made of a cheerful combination of cream, orange, and lilac canvas.
• Pia's Kilim Loafers each have a unique pattern cut from hand-woven Turkish rugs.
• Anna Zaboeva's Oxfords are made of leather printed with a pixellated pattern in pastel shades.
• Annie Mohaupt's Mokobos are wood-soled platforms and come with seven ribbons that you can tie in different ways.
• Marina's Marcue Brogues are made of hand-crafted leather in sky blue.
• Shunami's Slipper Wedges are comfortable, classic, and made-to-order in any color.